2015 Draft Spotlight: USC WR Nelson Agholor
4/24/2015, 6:30 p.m. | Updated on 4/24/2015, 11:14 a.m.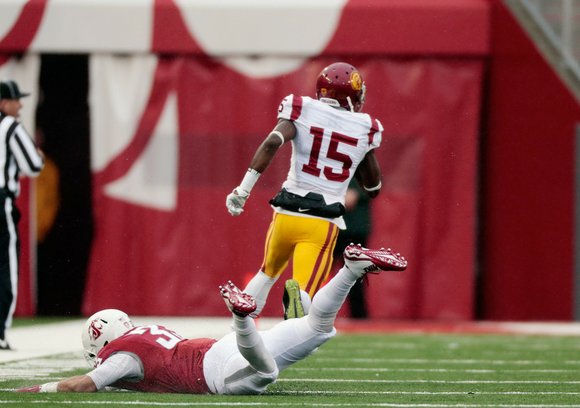 BALTIMORE — The thing that comes to mind when watching Nelson Agholor is how smooth of a receiver he is. He runs routes effortlessly and catches the ball with ease. He makes the game look easy. Agholor is a graceful wide receiver that could be a surprise first round pick.
Receivers like Agholor make the game easier for quarterbacks. This is because they can rely on him to be at the spot that they throw the ball too. He also makes short catches and turns them into long gains. Offensive coordinators can line him up at various places including outside, in the slot and in the backfield.
Agholor actually is at his best when in bunch formations and running routes that get him the ball in space. It takes advantage of his ability to naturally snatch the ball out of the air and turn up field immediately. Agholor has the knack for finding windows in the defense and squaring up, showing his numbers to the quarterback to become an easy target.
He will consistently work his way back to the ball on curls, comebacks and hitch routes. That helps quarterbacks also. When the quarterback is in trouble, he can look to Agholor to improvise and get open for him to throw the ball the ball to.
Teams will be more likely to use Agholor in the slot and at the Z position. This will allow him to not have to line up on the ball and be more subject to press coverage. He is much more dangerous when he gets a free release. Beating press coverage may be an issue for him in the NFL but his quickness should help him shake defensive backs that decide to press him.
The video below shows how Agholor can have a package of plays designed to get him the ball and give him a chance to be the playmaker that he is. USC is facing Stanford in this game. Agholor is lined up at slot in a bunch formation. He gets a wide release to widen the corner and to create space for him to work his way back inside. He looks for the ball right away as he makes his move towards the middle of the field.
His hand placement is perfect and he looks the ball into the tuck before taking off. Some say that Agholor lacks physicality but he runs right through a defender on this play. He shows some speed by gaining another 20 yards after he made the catch.
Outside of Tyler Lockett and Amari Cooper, Nelson Agholor may be one of the best route runners in this year's draft class. He is a polished receiver that can be used in a variety of places and cause problems for defenses. He was a key chess piece that was moved around in a pro-style offense at USC.
Agholor is not afraid to make a catch in traffic and has no issues sacrificing his body when going across the middle. He has a good feel for where to settle down in spots to make himself into an easy target for quarterbacks.