Teen depression and how social media can help or hurt
Dr. Melinda Ring | 8/6/2015, 4 p.m.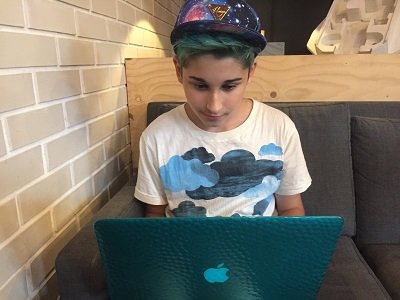 (CNN) — Recent news stories about cyberbullying, with kids running away, hurting others and even taking their own lives, points to a growing trend with often tragic results.
According to a recent study in the journal JAMA Pediatrics, 23% of teens report they are or have been the target of cyberbullying. Another 15% admitted to bullying someone else online. The researchers' review of 10 studies that explored the link between social media victimization and depression all showed -- without exception-- a significant correlation.
Yes, cyberbullying undeniably can inflict serious wounds. But from my own family's personal experience, along with esearch, allowing a teen access to social media can also be a crucial part of recovery from depression and anxiety.
According to the National Institute of Mental Health, in 2012, an estimated 2.2 million adolescents, or 9.1% of the U.S. teen population (ages 12 to 17), had at least one major depressive episode in the past year.
A national survey of over 10,000 adolescents showed that almost 1 in 3 teens met criteria for an anxiety disorder. Severe anxiety, including panic disorders, generalized anxiety disorder, post-traumatic stress disorder and phobias, afflicts 8.3% of all the teens.
Some 5% to 8% of U.S. teens attempt suicide yearly, with an additional 16% seriously considering suicide within the past 12 months. Approximately 157,000 kids age 10-24 are treated in emergency departments every year for self-inflicted wounds. Suicide is the third leading cause of death of 15- to 24- year-olds, according to a 2012 Centers for Disease Control and Prevention report. Victims of cyberbullying are almost twice as likely to have attempted suicides compared with adolescents who were not the target of online attacks.
Two summers ago while on a hike, my 12-year-old son Matthew told my husband that he'd been having some persistent anxious and depressing thoughts. As a physician who treats adults, the issue of teen mood disorders wasn't on my radar; Matthew always seemed so happy and upbeat -- he didn't have any obvious red flag signs of a mood disorder.
I had struggled with depression and an eating disorder when I was in high school, so the fact that he might have inherited some of my tendencies wasn't a complete shock. After the initial distress that my own son was suffering emotionally, I was filled with gratitude that he'd had the strength to share his concerns with us and reach out for help.
Last year was an emotional roller coaster for the whole family as Matthew's anxious and depressive feelings became more evident. One of the biggest questions we faced as parents was whether access to social media would harm or help him with these issues.
More than 92% of teens report going online daily, with 24% of those "almost constantly," according to the Pew Research Center.
While Facebook remains the most common social network site used by American teens, other platforms are growing rapidly in popularity. Instagram and Snapchat rank second and third, and Tumblr, Kik Messenger and Vine are growing in use, especially among youth from middle- to upper-class homes.