Teen depression and how social media can help or hurt
Dr. Melinda Ring | 8/6/2015, 4 p.m.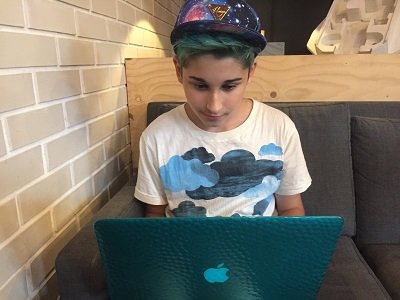 continued — In addition to meeting with an experienced social worker, Matthew started using Instagram as a source of connection; he said it helped him realize other kids were experiencing similar problems. But a check on what he was viewing revealed some graphic and disturbing images.
We conferred with Matthew's social worker about Matt's use of social media, and we all ultimately agreed that cutting him off completely would not be productive. Instead, we worked with Matthew to find sites that were an actual support, offering messages of "staying strong."
Matthew then shifted his own Instagram account to be a positive support to others, and he quickly developed more than 6,000 followers, reinforcing that his message of hope and support was needed and appreciated.
He also found YouTubers who shared their struggles now and in the past, helping him discover that he did have the opportunity to change his emotional path. Matthew was inspired to start his own channel. As parents wanting to protect our son, it took some convincing and long discussions before we agreed to his posting videos, as long as we could view them first.
In his first video he says, "I want to be the kind of person that you can say, he helped me through a hard time, and made me smile when I was in a hard place."
Over the next year, Matthew made tremendous progress understanding and dealing with his feelings. As part of his bar mitzvah the next fall, he was able to stand up in front of the congregation talk about his struggles by reading a reflection he wrote entitled "We will be the hopeful."
"In the past year I've learned a lot about mistakes and how we make them," he shared. "I've made many mistakes; more than I can count. I'm proud to say that I've struggled, I'm proud to have made mistakes. I want you to understand that striving for forgiveness, and no matter how deep you may be in your own, you'll keep floating. I don't want you to judge me for the past, as I won't judge you. If I can reach out to at least one of you, I'll be happy."
It has been clear that allowing Matthew to have his own voice -- through short films, pictures and messages of hope and humor -- has strengthened his resolve to stay on a positive path.
In the past several years, we have seen many devastating stories of teenage suicides and their link with interactions on social media. But I think it would be a serious mistake to classify all social media as negative.
Research supports that social media can help friendships: 52% of teens report a positive impact, as opposed to only 4% saying it was a negative. Posting on Facebook and viewing one's profile may help improve self-esteem.
Most clearly what I've heard from my son is about the huge amount of support peers give each other when they are depressed or are the targets of bullying.