Tips for cleansing your body the healthy way this summer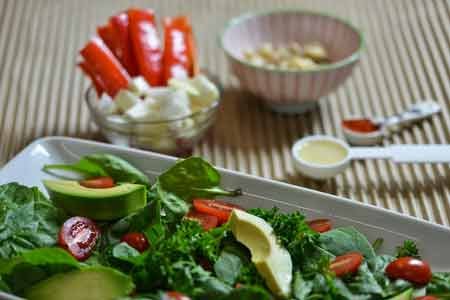 Before beginning any cleansing program, Consiglio-Ryan suggests setting some type of goal or intention.
"Actually, I like to write mine down and put it up in my office, or some people tell friends or family, 'I am doing this because.' If we don't know the intention behind whatever plan we're starting, when enthusiasm lags, we're either going to give up or really have a hard time," Consiglio-Ryan said.
She explained that cleansing can be difficult at first for individuals who are accustomed to drinking caffeine, coffee, alcohol and things that are very acidic and inflammatory. People who eat sugar-filled or processed foods may also experience more challenges while attempting to cleanse their bodies.
As a second step, the health coach also mentioned the importance of thinking about your water intake while cleansing.
Avocado plus Tomato Salad with Hot Stuff Dressing
Serves 1- 2
Ingredients:
1 cup cherry tomatoes, halved
1 handful spinach
1 handful of fresh cilantro, chopped
1 handful fresh parsley, chopped
1 ripe avocado, peeled, pitted and thickly sliced
1 handful pumpkin seeds
Hot Stuff Dressing:
½ cup cashews
1 red bell pepper, seeded and chopped
1 tsp. paprika
¼ cup yellow onion, chopped
1 Tbsp. lemon juice
Sea salt and freshly ground pepper to taste
Directions: Make dressing. Soak cashews in bowl of cold water for 30 minutes then drain and put in food processor. Add rest of dressing ingredients and blend until smooth and creamy.
Put the tomatoes, spinach, cilantro, parsley, and avocados in a bowl and toss with the dressing. Top with pumpkin seeds. Serve.
"You really want to flush out your toxins as much as possible, and water helps with that," Consiglio-Ryan said.
The third step would involve planning by having a shopping list for recipes, following a regimen and organizing meal preparation. Consiglio-Ryan reminded that change takes time. Having a coach or guide can prevent the return of old eating habits.
"Planning equals success," Consiglio-Ryan said. "If you have your plan set, there is really no way you will fail."
For more information about the "Raw Renewal 7 Day Detox" program, visit: http://wholehealthdesigns.com.