Does sports participation deserve a trophy? Let the parental debate begin!
An NFL linebacker's decision to return his kids' participation trophies sets off national debate
Kelly Wallace | 8/18/2015, 5 p.m.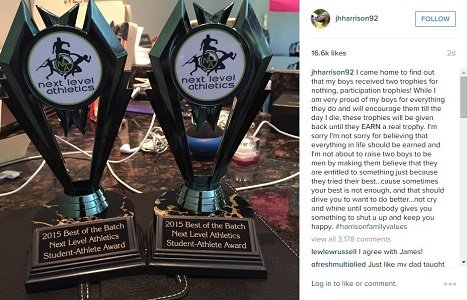 (CNN) — Whoa, who knew the debate over participation trophies -- those awards children get just for showing up and playing sports -- would strike such a chord?
After NFL linebacker James Harrison took to Instagram this weekend, announcing he would be sending back the trophies his sons, 6 and 8, received "until they earn a real trophy," parents on social media responded in droves, with the majority applauding Harrison, who plays for the Pittsburgh Steelers.
Former NFL Super Bowl champ Kurt Warner, on Twitter, stood fully with Harrison. "They don't let kids pass classes 4 just showing up," Warner wrote.
On the other side are parents such as Whit Honea, a father of two sons, 9 and 12, who participate in sports, and author of "The Parents' Phrase Book: Hundreds of Easy, Useful Phrases, Scripts, and Techniques for Every Situation."
While Honea, who has also coached sports, doesn't believe trophies are necessary, he does believe they reward effort, not the final outcome.
"The idea of a participatory trophy is not to make everyone a winner, but to acknowledge that the child put time and effort forward and to provide a memento of the experience," said Honea on Facebook.
"Having a child return the trophy compounds the idea that only being the best is good enough when in fact giving one's best should have that mantle."
My girls, 7 and 9, get a trophy at the end of every soccer season. The impromptu ceremony includes a cheer for the effort of each gal on the team and then each parent trying to get a quick photo of his or her child before the kids go off and play.
What could possibly be wrong with celebrating my girls' effort as long as we, as parents, aren't holding them back from making mistakes and learning from disappointments, such as losing a key game or missing a goal?
Dangers of an 'everyone gets a trophy' culture?
Ashley Merryman, co-author of "Top Dog: The Science of Winning and Losing," says there are many reasons to be concerned about the "everyone gets a trophy no matter what" culture.
"The idea was if we give kids trophies, if we tell them they're wonderful, if we tell them they're special, they'll sort of develop a sense of fearlessness and then they'll actually be more willing to do difficult things, and actually we now have about 20 years of research that shows that's not true," said Merryman.
"That if you tell a kid they're wonderful and they believe you, then it just confirms their belief and that's not about healthy self-esteem, that's about narcissism."
In fact, a study earlier this year found that children whose parents overvalued them were more likely to develop narcissistic traits, such as superiority and entitlement -- two qualities that aren't necessarily going to benefit our kids when the going gets rough.
Another concern about participation trophies, said Merryman, who wrote a New York Times op-ed "Losing is Good for You," is that they don't give our kids room to make mistakes and learn from those mistakes.