'Female Viagra' gets FDA approval
Flibanserin is for treatment of hypoactive sexual desire disorder
Debra Goldschmidt | 8/19/2015, 8 a.m.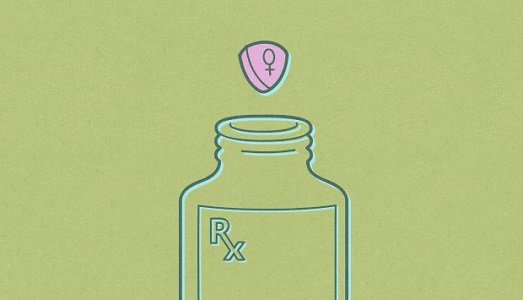 (CNN) — Women who have lost their sex drive will have a little pink pill to help them come October. On Tuesday, the U.S. Food and Drug Administration approved flibanserin, which will be sold as Addyi, for the treatment of sexual dysfunction in premenopausal women.
This is the first FDA approved treatment for sexual desire in men or women.
"Today's approval provides women distressed by their low sexual desire with an approved treatment option," Dr. Janet Woodcock, director of the FDA's Center for Drug Evaluation and Research said in a statement announcing the approval. "The FDA strives to protect and advance the health of women, and we are committed to supporting the development of safe and effective treatments for female sexual dysfunction."
The approval is not without warnings. In fact, the agency approved the drug with a risk evaluation and mitigation strategy, or REMS, to ensure safety. Of greatest concern, an increased risk of severe low blood pressure, so low it can cause a temporary loss of consciousness. This is more of a concern in patients who drink alcohol while taking the drug. As required by REMS, health care providers who prescribe the medication and pharmacies that dispense it are required to first complete a training program to become certified. They will be required to warn patients of the risks of consuming alcohol while taking Addyi and the importance of not doing so.
In addition, the agency is requiring a "boxed warning" to notify patients who drink alcohol, have liver problems or those who take medications called CYP3A4 inhibitors (which interfere with the breakdown of the medication in the body) not to take Addyi.
A 2002 study found that up to one-third of adult women might experience hypoactive sexual desire disorder, a technical term for when women lack sexual desire or fantasy.
Some experts say that for women, the cure for low libido is more likely to be found in their brains than in a bottle.
"Women's sexuality is very complicated. It's not a matter of just taking that pill, by the way, and then all of a sudden the lights go on," said Judy Kuriansky, a clinical psychologist and certified sex therapist. "You have to feel good about your body. You have to feel good about yourself. You have to feel the guy really loves you. ... It's complex. It's not the same as a man taking a pill."
Addyi is frequently referred to as "female Viagra" because it's a pill for sexual dysfunction in women. However, experts say it's a misnomer to describe it as such because it works in a distinctly different way to target the brain.
Viagra treats erectile dysfunction, a physical problem, and does not induce sexual desire. Addyi works on the central nervous system, which is why it's in the same category as an antidepressant.
Another difference is that men take Viagra as needed before a sexual encounter, and women take Addyi once every night. Taking it at night will reduce the likelihood of adverse reactions from low blood pressure and sleepiness or depression from a depressed central nervous system.