Enjoy jambalaya in the Creole tradition
8/26/2015, 1:27 p.m.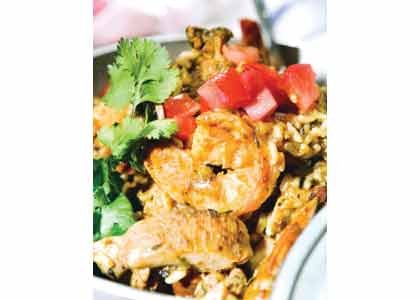 (METRO CREATIVE) — Travel anywhere in the United States and you're liable to find some delicious cuisine distinctive to a particular region. In Louisiana, Cajun and Creole cooking dominates many a restaurant's menu. Jambalaya is one of the more beloved dishes in Louisiana, where locals know there's a difference between Cajun jambalaya and Creole jambalaya. Creole jambalaya, such as the following recipe from Neal Corman and Chris Peterson's "Virgil's Barbecue Road Trip Cookbook" (St. Martin's Press) includes tomatoes and is a hearty enough dish to serve on its own.
Jambalaya
Serves 4 to 6
Seasoning Mix
1 tablespoon dried parsley flakes
11⁄4 teaspoons cracked black pepper
2 teaspoons kosher salt
11⁄4 teaspoons sweet paprika
1⁄2 teaspoon dried basil
11⁄2 teaspoons dried thyme
3⁄4 teaspoon ground white pepper
11⁄2 teaspoons onion powder
11⁄2 teaspoons garlic powder
Jambalaya
2 pounds boneless, skin-on chicken thighs
12 shrimp, peeled, deveined, tail on
6 tablespoons unsalted butter, divided
1⁄4 cup olive oil, divided
5 ounces andouille sausage, finely diced
4 ounces Tasso ham, finely diced
2 cups finely diced yellow onions
1 cup finely diced celery
11⁄2 cups finely diced green bell pepper
1 tablespoon chopped garlic
3 dried bay leaves
13⁄4 cups converted rice
2 cups finely diced fresh plum tomatoes
1 cup clam juice
2 cups chicken stock
Salt and pepper, to taste
In a small bowl, blend the seasoning mix together and set aside.
Cut each chicken thigh in half, and evenly dust the thighs with 11⁄2 tablespoons of the seasoning mix. Dust the shrimp with about 11⁄2 teaspoons of the mix.
In a low and wide 6-quart (or larger) stockpot, add 1 tablespoon of the olive oil. Sauté the shrimp for about 1 minute per side. Remove the shrimp and set aside.
Repeat the process with the chicken, using the remaining oil. Remove the chicken and set aside.
In the same pot, brown the sausage and ham. Add the remaining butter, onions, celery, bell pepper, garlic, and bay leaves, and cook for 4 minutes.
Add the rice, stirring to coat it with the mixture. Sauté for 2 minutes. Add the tomatoes and cook for 3 minutes more.
Add the clam juice, chicken stock and chicken thighs. Bring to a boil, and then reduce to a simmer. Cook for 30 minutes, and then check the rice for tenderness and ensure the chicken is cooked through.
Fold in the shrimp and cook for another 3 minutes. Remove the bay leaves, taste, add salt and pepper, as desired, and serve. PC158432