Black designer lights up GM
Freddie Allen | 8/27/2015, 8:54 a.m.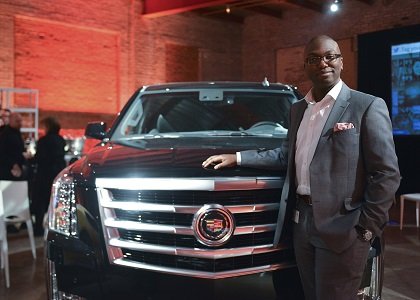 WASHINGTON (NNPA) — If you're driving down a highway, street or tunnel anywhere in North America and you see the shimmering new headlights on the latest Cadillac, Chevrolet, GMC or Buick approaching you, there's a good chance you're seeing the work of Martin Davis, a talented, young African American designer who works for General Motors.
Since 2012, Davis has led the exterior lighting and design studio for the automaker's North American division, the team responsible for the exterior lighting for every brand under the General Motors' umbrella.
Davis traces his love for design and innovation back to elementary school. He didn't like Hot Wheels and the Lego sets that he owned weren't intricate enough to hold his attention even at 5 years old. He found that he didn't like any of the toys sold in the stores, so he started making his own.
The Detroit-area native started collecting empty cardboard boxes that were used for transporting fruits and vegetables from the grocery store, bring them home and just start cutting. He molded shapes with glue, tape and construction paper. There was a small closet in the entryway of his parents' house, just big enough for a chair and his creations: interior designs for a car including a dashboard and center console. Then he invited all of his friends over to "test drive" the car. He rolled out a new model about once a month.
His father, then an employee at Ford Motor Company's stamping plant in Dearborn, Mich., shut down young Martin's burgeoning auto operation fearing that letting the neighborhood kids play with cardboard in their closet presented a safety hazard.
That didn't stop him from sharing his talent for design with others, including his father's employer.
"One day I decided to send my sketches into Ford. I was still in middle school. I found an address to Ford in some magazine and put a few of my drawings in an envelope and put it in the mail," Davis explained. "I didn't tell my parents anything."
A few months went by, and the young designer began to lose hope and figured that nothing would come of his letter. Then one day after school when he got home, his brother was waving a piece of paper at him.
"'This guy from Ford called you here's his number and he wants to call you back,'" Davis recalled his older brother saying.
So Davis anxiously dialed the number and the Ford employee who answered, thanked him for his interests and told him that he sent the drawings over to the design department, and that someone would get in contact with him.
He received a follow-up letter from the design department with some career advice and a list of schools.
The list of schools included his eventual choice. Following the advice that he received from Ford, while still in middle school he set his mind to attending the College for Creative Studies (CCS) in downtown Detroit.
After he graduated from CCS, he applied to a number of companies. At one point he believed that he would follow in his father's footsteps at Ford, but despite earlier interest in the middle schooler's work, he never got an offer from the company.