PBS documentary uncovers story of legendary tennis pioneer Althea Gibson
Airs Friday, September 4 at 9 pm on PBS
8/28/2015, 6 a.m.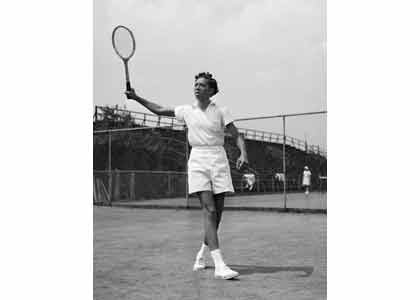 NEW YORK — People often cite Arthur Ashe as the first African American to win Wimbledon (1975). He was indeed the first African American male to win the men's singles title, but it was, in fact, Althea Gibson, who was the first African American to cross the color line playing and winning at Wimbledon (1957 and 1958) and at the U.S. Nationals (1957 and 1958 – precursor of the U.S. Open).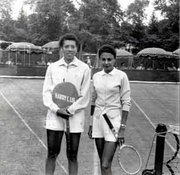 This fall, THIRTEEN's American Masters presents Althea, premiering nationwide Friday, September 4, 2015 at 9 p.m. on PBS (check local listings) during the U.S. Open. The 90-minute documentary reveals the highs and lows of this remarkable athlete whose life and achievements transcend sports and have entered the annals of African American history. From her roots as a sharecropper's daughter in the cotton fields of South Carolina, to her emergence as the unlikely queen of the highly segregated tennis world in the 1950s, her story is a complex tale of race, class and gender.
In recounting Gibson's story, the filmmakers were meticulous in finding period imagery, including over 450 vintage photographs. Producer and director Rex Miller weaves this archival visual material and interviews with those who knew Gibson, such as former New York City Mayor David Dinkins, Wimbledon champions Dick Savitt and Billie Jean King (who also serves as one of the film's executive producers), Jeanne Moutoussamy-Ashe, widow of Arthur Ashe, and more.
Gibson was born in Silver, South Carolina on August 25, 1927. At the age of three, her father moved the family north migrating to Harlem in 1930. Gibson was a tomboy who grew up loving sports, but disliked school so much that she started skipping classes at the age of 12 and, by 18, had dropped out of high school. She played basketball, but "…paddle tennis started it all," says Gibson, in a clip from a 1984 interview.
She learned to play that sport on the streets, but it was bandleader Buddy Walker, who was also the neighborhood play street director, who introduced her to tennis and The Cosmopolitan Club, a private black tennis club.
At the club, she met Fred Johnson, the one-armed coach, who taught her how to play. Under the auspices of the American Tennis Association (ATA), an organization of African American players, she began to develop as a tennis player. It was during this time that she met boxer Sugar Ray Robinson, who would become a friend and mentor.
Though a talented tennis player, Gibson was a street kid who lacked the genteel manner associated with the sport. It was under the tutelage of Dr. Hubert Eaton of Wilmington, NC and Dr. Robert W. Johnson of Lynchburg, VA, two African American physicians who loved tennis and helped young African Americans who wanted to play, that she flourished.
She honed her skill, while receiving lessons in etiquette and the social graces, traveled and played in the segregated south, and even earned her high school degree. Her success in tennis earned her an athletic scholarship (basketball and tennis) to Florida A&M, where she received a BA in 1955 at the age of 27. Yet, with all she achieved, she never felt comfortable with the black middle class.