Life in Baltimore: Holiday recipes
Brenda Bowe Johnson | 12/18/2015, 7:07 a.m.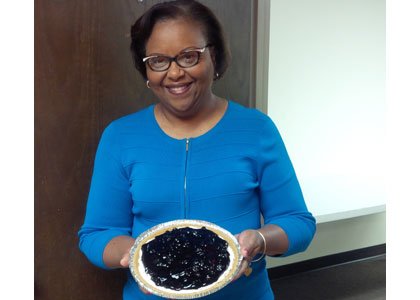 BALTIMORE — The winter solstice is approaching with its early nightfall and chilly air and so are the holiday festivities. The lighting of the Washington Monument in downtown Baltimore, the Festival of Trees, the Baltimore Symphony Orchestra 's Nutcracker, Rudolph the Red Nosed Reindeer at the Lyric and numerous holiday concerts and shopping are all signs of the Christmas season. Additionally, it is the time of year to share and give to community organizations to enhance the lives of others.
In planning celebrations with family and friends, you may want to add a few of the dishes from three excellent cooks who delight family and friends with their culinary talents year round.
Juliette Britton, a caterer for private affairs, prepares a side dish of glazed carrots, which is loved by her daughters. Every year, Esperance Sutton prepares a family favorite, oyster dressing, however, her desserts are also scrumptious. She shares a recipe for an easy no-bake blueberry cheesecake. Juanita Tillery charms everyone visiting her home with delicious homemade vanilla ice cream and mouth watering peach cobbler.
Soror Judy's Holiday Glazed Carrots
Ingredients
10 ounces baby carrots or sliced carrots
1/2 cup orange juice
1/2 cup water
1/2 teaspoon orange zest
1 teaspoon brown sugar
1/4 teaspoon crush red pepper
2 tablespoons apricot preserves
1 tablespoon butter
Parsley flakes
In a medium saucepan, add carrots,orange juice, and water. Bring to a boil for 2 minutes. Reduce heat to medium and cook 10 minutes.
Add orange zest, brown sugar, salt and crushed red pepper.
Continue to cook 10 minutes or until carrots are tender and liquid is reduced. Add apricot preserves and butter, cook uncovered until a glazed is formed. Garnish with parsley flakes and serve hot.
Juanita's Peach Cobbler
Ingredients
12 fresh peaches or 1 16 oz can peaches
3 cups flour
1 teaspoon salt
2 teaspoons cinnamon
1 cup butter
10 oz whole milk
2 tablespoons cornstarch
2-3 cups granulated sugar
1 tablespoon baking powder
1 teaspoon nutmeg
Preheat oven to 425. Coat a13x9 glass baking dish with cooking spray.
Whisk the cornstarch,cinnamon,nutmeg and granulated sugar in a large mixing bowl
Then fold in peaches; pour the peaches into the baking dish and bake 15 minutes------ just until bubbling
While peaches cooking, toss together the flour,baking powder,salt,and 6 founded tablespoons sugar
Cut the butter into the flour mixture using your hands,until the flour resembles coarse meal
Add milk to the flour mixture, stir just until a soft dough forms. Scoop the dough in 1/3 cup piles onto the hot fruit mixture. Sprinkle the dough with the remaining sugar. Bake until golden brown, approximately 25-35 minutes.
Serve warm with vanilla ice cream.
Homemade Vanilla Ice Cream
Ingredients for the Custard
8 large eggs
1 tablespoon of Corn Starch
1 teaspoon of salt
1 can of Borden's Dessert Cream
3 ounces of pure vanilla extract
4 cans of evaporated milk
4 cups of granulated sugar
•In a large bowl, hand whip the eggs. Then add the cornstarch, the vanilla extract and the salt and mix well. To this mixture, slowly fold in the sugar and blend well.