Presidential candidate Bernie Sanders meets with black pastors
Freddie Allen | 12/22/2015, noon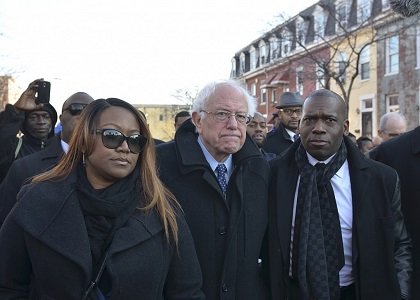 When presidential hopeful Bernie Sanders (D-Vt.) met with a group of Black civic and religious leaders in Baltimore, Md., Jamal Bryant, the pastor and founder of Empowerment Temple Church said that it was critical for the senator to have a conversation with those who are the eyes and ears of the Black community.
Bryant said that Sanders needed to see the realities of Baltimore and the struggles of everyday working people and not just the rejuvenated Inner Harbor.
During a walking tour through the poverty-stricken Sandtown-Winchester neighborhood, Sanders noted the boarded up row houses and the lack of grocery stores in the community, as residents shouted, "Don't forget Freddie Gray!" and "Can you bring some jobs down here?"
After a questionable arrest last April, Gray, 25 suffered a severe spinal cord injury while in police custody and died a week later. As residents took to the streets in peaceful protests against police brutality, others looted and burned stores drawing national media attention.
Following the walking tour, Sanders joined social justice and faith leaders for a round table discussion where they discussed a number of issues including education, housing and mass incarceration.
"You know how much money we're spending a year locking people up? Eighty billion dollars a year, locking up fellow Americans," said Sanders. "So, it seems to me to be an absolute no-brainer that you take some of that money, you rebuild the housing here in Baltimore putting people to work and when you put people to work they're not going to end up in jail, because they have some pride, they have some income."
Sanders said that his support for tuition-free public colleges and universities may seem like a radical idea, but it isn't.
But Lezli Baskerville, the president and CEO of the National Association for Equal Opportunity in Higher Education (NAFEO), a group that advocates for historically Black colleges and universities (HBCUs) and predominantly Black institutions (PBIs), expressed concerns that Sanders' vision for tuition-free public colleges may have unintended adverse effects on enrollment at HBCUs.
Baskerville said that HBCUs account for three percent of America's colleges and universities, but graduate 50 percent of African American teaching professionals, 60 percent of African American health professionals and 42 percent of the Blacks who pursue careers in Science Technology Engineering and Math (STEM).
Baskerville suggested implementing a program that invested more in those schools that are educating the lion share of the growing population of minority students.
Sanders said that he visited a number of HBCUs in South Carolina and that he was aware of the extraordinary role HBCUs played in educating Black students, but that they have to be adequately funding and supported. Sanders recommended a major expansion in funding for Pell grants, admitting that it would cost money initially, but save money later by cutting the unemployment rate in the long run.
The group also discussed the need for greater economic equality and empowerment in the Black community.
"It's easy for African Americans to get a loan for a used car, but very hard for us to get a loan to start a business," said Bryant.