Ravens score two Pro Bowlers
Turron Davenport | 12/23/2015, 1 p.m.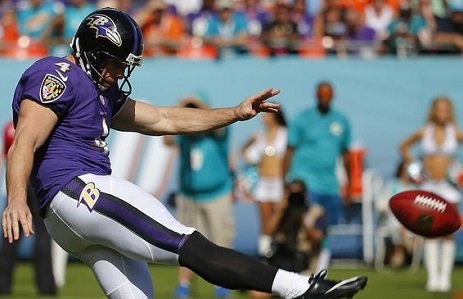 The NFL put on their annual Pro Bowl awards show on Tuesday night. Two Baltimore Ravens were named to the 2015 Pro Bowl roster while one was snubbed. The Ravens also had two players named as alternates.
Marshall Yanda signed a huge contract earlier in the season and continues to The NFL put on their annual Pro Bowl awards show on Tuesday night. show why he is looked upon as one of the best offensive lineman in the NFL. Yanda was named to his fifth consecutive Pro Bowl. Being voted into the Pro Bowl should come as no surprise for Yanda. He has become a fan favorite as shown by his being voted one of the top 10 all-time Ravens.
Yanda has anchored the Ravens offensive line since being drafted by the Ravens with a third round selection in the 2007 NFL Draft. The Ravens offensive line only gave up that has allowed 41 sacks over the last two years. Baltimore gave up only 22 sacks last season which ranks as the fourth fewest in the NFL.
Being named to the Pro Bowl is a great compliment for Yanda, but he was quick to give credit to his teammates. "Football is the ultimate team sport, and you don't do anything in this league on your own," Yanda said. "I want to thank the coaches and my teammates for helping me along the way. We all grind together with the goal of achieving greatness."
Sam Koch was named to his first Pro Bowl this season. He signed an extension with the Ravens prior to the start of the season. Koch has been one of the shining stars in an otherwise dismal season for the Ravens. He led the NFL in net punt average (43.3) last season and currently leads the NFL with an average of 44.0 yards per punt. His average is only 0.02 yards short of the NFL record set by Johnny Hekker in 2013.
No Ravens player has made more consecutive starts than Koch. He has played in 158 consecutive games. Koch credits his coaches and teammates for his success.
"I must give a ton of credit to my teammates, especially Morgan Cox, Brynden Trawick, Kyle Juszczyk, C.J. Mosley, Terrence Brooks, Albert McClellan, Zach Orr and Anthony Levine [Sr.]," Koch said. "They are the frontline guys who work their tails off – in addition to all the gunners we've had this year – to make sure we're the best punt team in the league."
"This has definitely been a long time in the making. A lot of hard work and practice have gone into this," Koch said. "I want to thank my coaches – John Harbaugh, Jerry Rosburg and Randy Brown – for all they have done by believing in and helping me."
The Ravens also had C.J. Mosely and Kyle Juszczyk voted as third alternates for the Pro Bowl. Juszczyk has been a key piece for the Ravens offense and actually leads all NFL fullbacks with 34 receptions. Mosley has 94 tackles this season and returned a fumble recovery 41 yards for a touchdown.