Kwanzaa celebration at the Reginald F. Lewis Museum
12/25/2015, 7 a.m.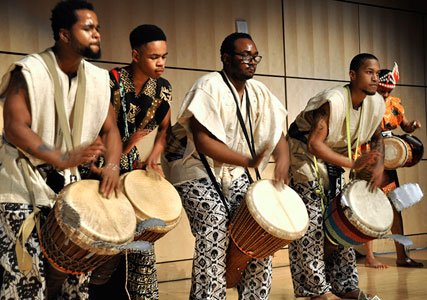 Join the Reginald F. Lewis Museum for the annual community Kwanzaa Celebration on Sunday, December 27, 2015 at 1 p.m. Enjoy a showcase of contemporary African fashion, an African musical performance and Sankofa Dance Theater. View a candlelight Kwanzaa ceremony, partake in craft activities and storytelling by Maria Broom and Jali D. Attendees can also visit the African Marketplace for Afrocentric art and to purchase mementos. Special $5 admission available in person.
The Reginald F. Lewis Museum is located at 830 East Pratt Street in Baltimore City. For more information about the Kwanzaa celebrations, visit: http://bit.ly/1j9ysFz.
The Reginald F. Lewis Museum of Maryland African American History & Culture is Baltimore's premier facility highlighting the history and accomplishments of African Americans with a special focus on Maryland's African American community. A Smithsonian affiliate, the museum is the East Coast's largest African American museum.
For more information, call 443-263-1800 or visit: www.lewismuseum.org.
Kwanzaa Schedule
12:30 to 5:30pm - African Market Place
1 to 5pm - Kwanzaa Crafts with Sallah Jenkins + Book Art Workshop with Martha Edgerton
1pm - African Drum Call
1:30 - Storytelling with Maria Broom
2:30 - African Fashion Show (Lenoche, Keepeekee and Sankofa Dance Theater)
3:30 - Talk by Dr. Jeffrey Menzise on Kwanzaa Principle Kujichagulia("Self-Determination") entitled "Ensuring Black Lives Matter: Self Determination and the Quest for Justice"
4:30 - Sankofa Dance Theater Performance + Kwanzaa Candlelighting Ceremony