Tiger Woods at 40: Golf star's top-10 defining moments
Rob Hodgetts | 12/29/2015, 4 p.m.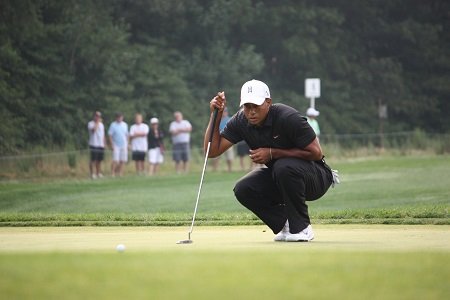 (CNN) — His story has been game-changing, spellbinding, controversial, outrageous, even sad -- but never dull.
Tiger Woods turns 40 on Wednesday, another landmark in a tantalizing tale.
The former world No. 1, stranded four shy of Jack Nicklaus' record of 18 major titles, has been the dominant golfer of his generation and the sport's most iconic figure.
The end may be in sight, as injuries have derailed his career -- although you wouldn't rule out further twists -- but here's a rundown of the top-10 defining moments from Woods' career.
10. The wins
It may not resonate as much as the chase for Nicklaus' major mark, but Woods insists PGA Tour wins are just as important a measure of his career. Woods clinched the last of his 79 PGA Tour titles in 2013, when he won five times, to inch towards seven-time major champion Sam Snead's record of 82. Nicklaus is third with 73.
9. The U.S. Open overture
Woods kicked off his major haul at the Masters in 1997 and added another with the 1999 PGA Championship, but it was his 15-shot demolition job at Pebble Beach in 2000 that confirmed his status in golf's pantheon. Woods' winning margin remains the biggest in major history, and he broke a host of other scoring records along the way. The victory would also set in motion a period of unsurpassed domination in the game.
8. The first grand slam
A month after his Pebble Beach procession, Woods won the Open Championship at St. Andrews -- by another thumping eight-shot margin -- to complete the set of all four major titles.
At 24, he became the youngest player in history to clinch the career grand slam and remains one of only five players (along with Gene Sarazen, Ben Hogan, Gary Player and Nicklaus) to have won all four professional major championships in his career. Woods beat Nicklaus to the mark by two years.
7. The world No. 1
Not a specific moment, but Woods' strangehold on the world rankings illustrates how he dominated. He has spent a record 683 weeks at No. 1, starting with a week-long foray in June 1997, and including the most consecutive weeks (281) as top dog, from June 2005 to October 2010. Despite his recent slide down into the 400s in the rankings, Woods was still on top as recently as May 2014 following another 60 weeks as No. 1.
To put his superiority into context, since the world rankings began in 1986 the next closest is Greg Norman with 331 weeks at the top.
6. The beginning of the end?
Woods has fought injury throughout his career, but each time he has returned full of defiance, always proclaiming he will bounce back.
But after a third operation on his back in November 2015, a downbeat Woods exposed his doubts for the first time.
"Where is the light at the end of the tunnel? I don't know," he told reporters on the eve of his Hero World Challenge event in the Bahamas in December.