Wendell Scott honored during 2015 NASCAR Hall of Fame Induction Ceremony
First African American to win NASCAR Premier Series Race joins Bill Elliott, Fred Lorenzen, Joe Weatherly and Rex White in sixth induction class
2/5/2015, 6 a.m.
DAYTONA BEACH, Fla. (BPRW) — Stock car racing trailblazer Wendell Scott was among five legendary drivers enshrined into the NASCAR Hall of Fame in Charlotte, North Carolina during the Induction Ceremony held in the Crown Ball Room at the Charlotte Convention Center on January 30, 2015.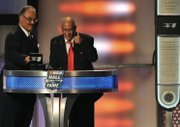 Joining Scott in the sixth induction class of the now 30-member Hall were Bill Elliott, Fred Lorenzen, Joe Weatherly and Rex White.
A true pioneer, Scott was the first African-American to race fulltime in NASCAR's premier series, as well as the first to win a NASCAR premier series race. Scott posted 147 top 10s in 495 starts, as well as finished four seasons in the top 10 of the championship points standings. He won more than 100 races at local tracks before making his premier series debut, including 22 races at Southside Speedway in Richmond, Virginia, in 1959 en route to capturing both the Sportsman Division and NASCAR Virginia Sportsman championships.
"The legacy of Wendell Scott depicts him as one of the great vanguards of the sport of NASCAR racing," said the late Scott's son, Franklin, who accepted induction on his behalf. "Daddy was a man of great honor. He didn't let his circumstances define who he was.
"Daddy realized that life has a generational component and he predicted a lot of what is happening. He would be delighted and happy that there is evidence of more opportunities for diversity and inclusion."
Franklin concluded his speech with a quote from Martin Luther King Jr.
"The ultimate measure of a man is not where he stands in moments of comfort and convenience, but where he stands at times of challenge and controversy," he said. "Wendell O. Scott, Sr. stood the test of time."
Bill Elliott – a fan-favorite with a record 16 NASCAR Most Popular Driver Awards – compiled numerous accolades that put him near the top of many all-time NASCAR lists. In his 37-year driving career, "Awesome Bill from Dawsonville" notched 44 wins (16th in NASCAR history) and 55 poles (eighth), but his most prestigious accomplishment came when he won the 1988 premier series championship. Elliott always performed on the biggest of stages, winning the Daytona 500 twice and the Southern 500 three times.
"One thing I look at out here today is one common bond with all these racers, it's the hard work and the dedication all these guys had," Elliott said. "I mean, for me to stand up here among the guys that have already been here, it's just totally incredible."
Fred Lorenzen – one of the first "outsiders" to capture the fancy of NASCAR's early southeastern crowds – was one of the sport's first true superstars, even though he never ran more than 29 of the season's 50-plus races. The Elmhurst, Illinois, native won 26 races from 1961-67, with his best overall season coming in 1963 as he finished with six wins, 21 top fives and 23 top 10s in 29 starts.The victor of the 1965 Daytona 500 and World 600, Lorenzen boasts the fifth-highest career winning percentage (16.86) in NASCAR history.