'America's Got Talent' winner performs Valentine's Day weekend show in Baltimore
Andrea Blackstone | 2/9/2015, 5:54 a.m.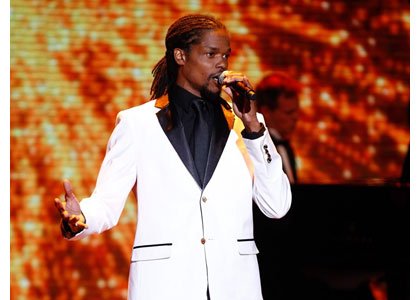 "He didn't have to do the Moonwalk or anything. It was just amazing to see him just stand there and sing a song in a suit, clean. I thought that was the coolest thing I'd ever seen. That pushed me toward seeing Andy Williams and Bing Crosby. When I finally heard Frank Sinatra, I was just blown through the roof. His phrasing and timing was different from anything I'd ever heard," Murphy said.
Murphy sells out shows to a growing fan base. The 40-year-old singer who loves performing blue sky, puffy cloud music also embraces charity work. He traveled to China and raised close to $110,000 to support the Heart To Heart Foundation, which helps to pay for heart transplants for young children.
Murphy says that he does not even feel like a star. Moving back to Logan is his "24-hour a day reality check."
"Throughout West Virginia, Ohio and Kentucky, and parts of Tennessee, I've raised $1.3 million for different charities around the area. My main charity is the weekend home program, and Home Society, which benefits abused children, homeless kids and sick children," Murphy said. "I am a
believer, a total living witness that dreams do come true. All you have to do is hold on to them and just wait your turn."
For more information about Murphy's Valentine's Day weekend show,
visit http://www.baltimoresoundstage.com/event/680955-landau-eugene-murphy-jr-baltimore/ or call Baltimore Soundstage at 410-244-0057.