Anne Arundel County urges winter storm precautions
Now is the time to prepare for possible winter storm
2/16/2015, 5:14 a.m.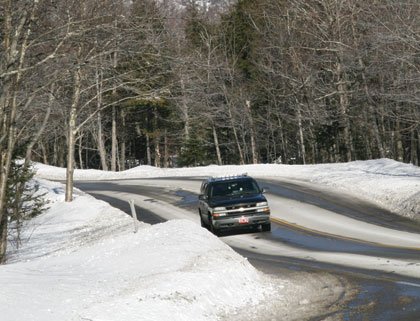 Anne Arundel County Executive Steven R. Schuh is advising Anne Arundel County residents to prepare now for an approaching winter weather event that may have a significant impact on Anne Arundel County starting Monday evening.
The National Weather Service has placed Anne Arundel County under a Winter Storm Watch from Monday evening through Tuesday morning. A Winter Storm Watch is issued by the National Weather Service when there is a potential for heavy snow or significant ice accumulations, usually at least 24 to 36 hours in advance.
The latest predictions are that the Baltimore Washington area, including Anne Arundel County, could receive five or more inches of snow, presenting a hazard to those who are unprepared or who do not respond prudently to storm conditions. Snowfall is expected to begin falling tomorrow evening and may continue into Tuesday.
The continued combination of gusty winds and cold temperatures will continue to make dangerous wind chills that can quickly cause hypothermia and frost bite through Monday morning. Beginning Monday evening, roads will become snow covered and slippery with visibilities being reduced to one half mile or less at times. The combination of snow covered roads and low visibility will make travelling dangerous.
Citizens can minimize their risk of injury to themselves, as well as, property damage from winter storms by taking the following precautions.
Before the Storm:
· Have vehicles properly winterized and equipped with snow tires or chains. Carry a "survival kit" in your vehicle consisting of blankets, candles, matches, non-perishable foods, drinking water, protective clothing, sand (or other traction material) and a shovel. Eliminate all non-essential travel during storms. Maintain a full tank of gas if travel during adverse weather is absolutely necessary.
· Ensure the proper operation of home emergency equipment such as battery-operated radios, flashlights, emergency heating sources, smoke detectors, carbon monoxide detectors and fire extinguishers. We recommend that you do not use candles in the event of a power outage.
· Make sure furnaces, wood burning stoves and fireplaces have been checked for safe operation and have had the chimneys cleaned. Always dispose of fireplace ashes in an approved metal container, do not put ashes in a plastic/paper bag or other unapproved container.
· Have a supply of non-perishable food/water for use in emergencies and keep an adequate supply of medications and baby supplies on hand, if needed.
· Plan precautions to prevent water pipes from freezing during periods of intense cold, such as proper insulation of pipes or draining water from exposed pipes. As a last resort, maintain minimum water flow to prevent freezing.
· Be aware that heavier than normal snows may cause leaks and collapse weakened or small structures such as sheds or other outbuildings.
· Residents/owners should ensure that gutters and roof drains are clear to ensure the removal of water from roof areas.
· Be alert to storm WATCHES or WARNINGS issued by the National Weather Service and broadcast by local radio and television stations.
During and/or After the Storm:
· Stay home unless absolutely necessary.