Frank M. Conaway Sr., dead at 81
Served as Baltimore City Circuit Court Clerk since 1998
Baltimore Times Staff | 2/17/2015, 8:52 a.m.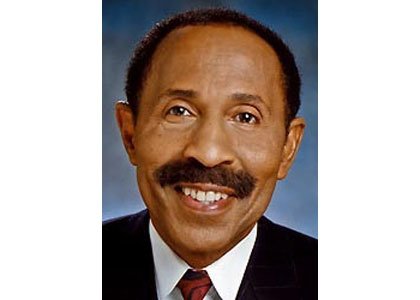 BALTIMORE — Maryland politicians are remembering Frank M. Conaway, Sr., longtime clerk of the Baltimore City Circuit Court who died this weekend at the age of 81.
Conaway was elected to a fifth term as circuit court clerk last year. He made waves when he switched to the Republican party after being sworn in,
He was born in Baltimore on March 16, 1933 and attended Baltimore City public schools graduating from Frederick Douglass High School. Conaway served in the U.S. Army and earned a bachelors degree from Morgan State College in 1960. The former insurance executive was elected Clerk of the Baltimore City Circuit Court in 1998 and served in that position until his death. Conaway also represented Baltimore City in the Maryland House of Delegates from 1971-1975 and 1979-1983.
Baltimore Mayor Stephanie Rawlings Blake said Conaway was a dedicated public servant who redefined what was possible for generations of African Americans in Baltimore."
"Maryland has lost a tremendous public servant," said Governor Larry Hogan. "Nobody had the presence and personality of Frank Conaway, a businessman and fixture in city politics. Frank loved people, and the people loved him, too."
Congressman Elijah Cummings said Conaway was a friend and mentor for over 35 years. "Baltimore has lost a true leader and unbridled voice of the people in Frank Conaway." He continued, "As a tireless advocate for the Baltimore community, he dedicated his life to public service and loved every moment of it. His desire to help those around him and lift others up was present in all of his work. He worked hard each and every day to bring life to life, and he succeeded."