48th Annual Year for the Towsontown Spring Festival, Sponsored by the Towson Chamber of Commerce, Inc.
Saturday, May 2nd, 2015 10:00 a.m. – 8:00 p.m. and Sunday, May 3 rd , 2015 1:00 p.m. – 6:00 p.m.
2/19/2015, midnight | Updated on 2/19/2015, midnight
BALTIMORE — Festival Smart Phone App (iPhone & Android) – Download the 2015 Towsontown Spring
Festival app and explore vendors, bands, beer gardens, sponsors and more. You can also
create a schedule so you don't miss out on any performances or bands. The app is free and can
be downloaded from the Apple and Google Play stores starting March 2015.
The Towsontown Festival offers a wide variety of delicious festival food. Selections range from
palate pleasers such as pit beef, cheesesteaks, and crab pretzels to ethnic delights and funnel
cake.
Besides our fabulous food, the festival is a great place to buy gifts for any occasion. There are
approximately 450 vendors that sell art, jewelry and other unique treasures. Pick something out
for Mother's Day, graduations, weddings or even birthdays for your friends and family.
Information Stage – The fun begins at the corner of Pennsylvania and Washington Avenue!
Opening ceremonies kick off the festival starting at 12:00 p.m. on Saturday. Also performing at
the Information Stage are local organizations including Allure Dance Group, Stoneleigh Steel
Drum Band and Rebounders Gymnastics.
Freedom Fun Zone – Thanks to the Army National Guard, the Freedom Fun Zone is back for
the 2015 festival and is located at the corner of Pennsylvania and Bosley Avenues. This area
will feature the Minute Man HUMVEE, an obstacle course, basketball shootouts and a rock
climbing wall.
Plaza Family Fun Area- Also known as the carnival area, the Plaza Family Fun Area is located
next to Hamilton Bank off of Pennsylvania Avenue. Since this area was so successful last year,
we are adding more rides including a 40-foot Ferris wheel, tilt-a-wheel and many other
adrenaline-rushing rides as well as the Family Fun Zone II area.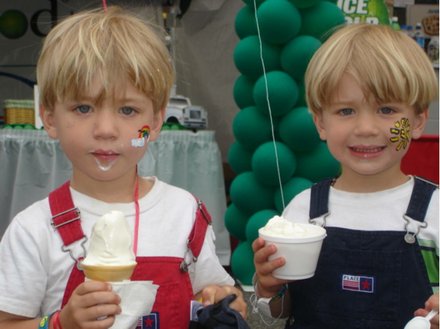 Family Fun Zone II – The Family Fun Zone II is a new addition to the festival this year and is
located at the corner of Washington and Allegheny Avenue. You can find additional carnival
rides here that are fun for all ages.
Antique Classic Cars Exhibit – The Antique Classic Cars Exhibit is located on Lower
Baltimore Avenue. There will be dozens of classic and antique cars on display that will take you
back in time.
106.1 Patriot Plaza "Monsters of Mock" – Back by popular demand, this stage is located
between Upper Pennsylvania and Upper Chesapeake Avenues. This area promises a great
show featuring a beer garden and bands 2U, Amish Outlaws, Sir Rod and more live music that
you and your family will rock out to.
100.7 The Bay Courthouse Garden Sponsored by Creig Northrop – You can find the second
beer garden and more live music here at the Historic Old Court House located off Washington
Avenue. Crushing Day, Dave DeMarco, Rob Fahey & the Pieces and more bands are
scheduled to play at the Courthouse Garden on Saturday and Sunday.
The Towsontown Spring Festival knows how important it is to deliver great entertainment for
Towson. All music areas are free to enter. The festival committee handpicked some of the
best live bands from the east coast who will play a range of cover music. For the band lineup,
please visit www.towsontownspringfestival.com or download the 2015 Towsontown Spring
Festival app on your smartphone.
Parking rates are adjusted by the county. All county lots surrounding the festival will charge only
$5 per day.
For more information go to www.towsontownspringfestival.com or call 410-825-1144.