Frank Conaway Sr. remembered
Clerk of City Circuit Court died Sunday, February 15, 2015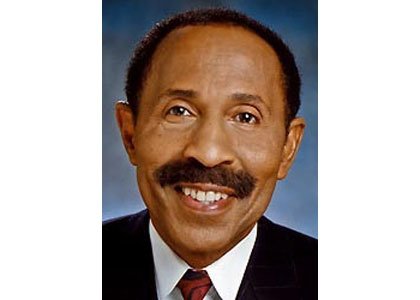 BALTIMORE — Frank M. Conaway Sr., longtime clerk of the Baltimore City Circuit Court, is being remembered by many who knew him, and by those whom his work positively affected. He died on Sunday, February 15, 2015 at age 81.
"He loved the people, the process and the political arena," said his son, Frank M. Conaway Jr., who represents the 40th District in the Maryland House of Delegates. Conaway Jr. said his father believed in working hard and making a decent living for himself and his family.
Baltimore Mayor Stephanie Rawlings Blake called Conaway Sr. a truly dedicated public servant who redefined what was possible for generations of local African-Americans.
"Baltimore has lost a true leader and unbridled voice of the people in Frank Conaway, and I am deeply saddened to learn of his passing," said Democratic Rep. Elijah Cummings (MD-07). "Frank was a friend and mentor to me for more than 35 years. As a tireless advocate for the Baltimore community, he dedicated his life to public service and loved every moment of it. His desire to help those around him and lift others up was present in all of his work."
Born in Baltimore on March 16, 1933, Conaway attended the city's public schools and served in the U.S. Army. He graduated from Morgan State University in 1960 and became an insurance executive.
He first held public office in 1971 when he won election as a member of the House of Delegates representing the city's District 4. Conaway later served on the state's Comprehensive Health Planning Commission. Eventually, Conaway became Clerk of City Circuit Court where he thrived.
"Frank Conaway, Sr. exhibited a rare strain of political courage that exhibited itself through independence and conviction," said Elder Cortly "C.D." Witherspoon Sr., the chief servant of the City Revival Ministries and president of the Baltimore Chapter of the Southern Christian Leadership Conference. "He didn't seek approval, or validation. His truth primary was his guide, and his moral compass. He represented a generation of black elected officials who broke into the segregated good old boys club, and integrated it. His unique brand of leadership inspired generations of public figures, political, and activist alike. But above all, he did it Frank's way."
Conaway also displayed no fear of being too outspoken, particularly when he thought it to be in the best interest of Baltimore residents.
In an opinion-editorial column he wrote after his failed 2011 mayoral bid, Conaway said his campaign was as simple as it gets; it was about: jobs, jobs, jobs.
"In an economic climate that has millions of Marylanders struggling to pay their bills, it makes no sense that Congress would forgo one of the most imperative policies that has offered at least some form of relief to the citizens they are elected to represent," he wrote.
"Allowing the much needed long-term unemployment benefits of millions of Americans to expire has to be the most disastrous misstep taken by the members of the 112th Congress in 2013."
In another post just two months ago, Conaway cautioned about politicizing the recent police incidents and lack of grand jury indictments in Missouri and in New York.