Funeral arrangements for Frank M. Conaway, Sr.
2/20/2015, 6 a.m.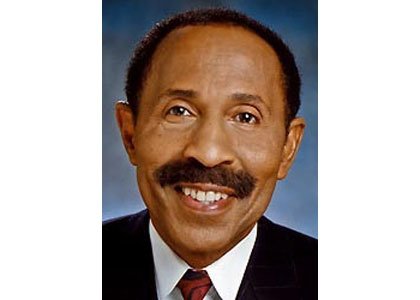 The Conaway family has coordinated the following homegoing services for Frank M. Conaway Sr., Clerk of the Circuit Court for Baltimore City (1998 – 2015)
His Viewing will be held this Friday, February 20th from 4 p.m. – 8 p.m. at Vaughn Green Funeral Home located at: 5151 Baltimore National Pike (Route 40) Baltimore, Maryland 21219
His Wake will be held on Monday, February 23rd from 10 a.m. to 11 a.m. with the funeral service to follow immediately at 11 a.m. at: Morgan State University – Murphy Fine Arts Center located at: 2201 Argonne Drive Baltimore, Maryland 21218
His Repast will be held immediately following the Funeral Service on Monday, February 23rd at: The Forum Caterers located at: 4210 Primrose Avenue Baltimore, Maryland. 21215
His body is being handled by Vaughn Greene Funeral Services. Anyone wishing to leave flowers, cards or gifts, or to sign onto the guest book can go to the website: http://www.vaughncgreene.com/ and look up Frank M. Conaway Sr.
Dr. Reverend A.C.D. Vaughn will preside over the funeral services, and all other information regarding family contact, information or media inquiries regarding Mr. Conaway and his passing/affairs can be forwarded to: hassangiordano@gmail.com and they will be sent directly to Mrs. Belinda Conaway for consideration.