A Mediterranean Menu for Outdoor Entertaining - Opa!
Family Features | 2/23/2015, midnight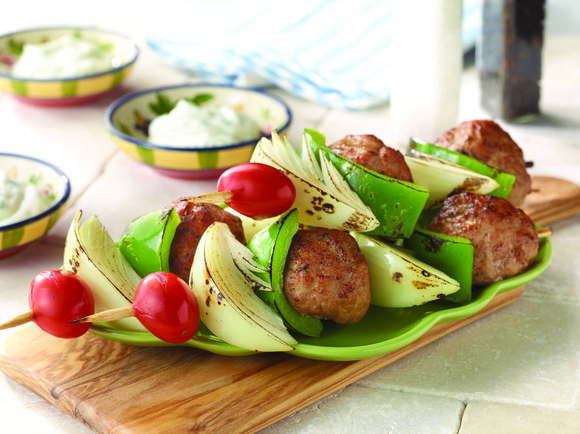 continued — 1/2 medium red onion, thinly sliced
1 1/2 tablespoons red wine vinegar
2 garlic cloves, pressed
1 medium cucumber, chopped
1 (12-ounce) jar artichoke hearts, sliced
1/4 cup parsley, chopped
3 tablespoons chives, chopped
2/3 cup crumbled feta
1 tablespoon lemon juice
Fresh ground black pepper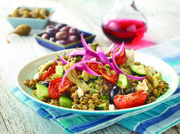 Preheat oven to 400°F. On medium-sized baking sheet lined with parchment paper, arrange tomatoes skin side down. Add drained olives to pan; drizzle with 1 tablespoon olive oil and balsamic vinegar. Sprinkle with thyme leaves and sea salt. Roast for 20 minutes. Remove from oven and cool completely.
Cook lentils according to package directions, approximately 20 minutes.
While lentils are cooking, place red onion in small bowl. Pour red wine vinegar over onions and sprinkle with sea salt. Stir and let stand at room temperature while lentils are cooking.
When lentils finish cooking, drain if needed. In large bowl combine lentils, marinated red onion, garlic and remaining olive oil. Mix well and cool completely. When cool, combine rest of ingredients with lentils. Serve cold.
Orange, Mint and Onion Salad
Servings: 6
3 navel oranges
1/2 sweet yellow onion, peeled and thinly sliced
1/4 cup fresh mint leaves, torn
1/4 cup black olives, oil cured, pitted
Vinaigrette:
1/3 cup cider vinegar
2 tablespoons honey
2 teaspoons Dijon mustard
1/2 teaspoon ground cinnamon
1/2 teaspoon salt
1/4 cup canola oil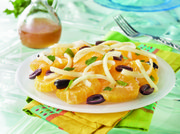 For salad, cut top and bottom off each orange so it sits flat on cutting surface. Remove peel and pith (white part) by taking sharp knife and running it down sides of orange from top to bottom, following shape of each orange. Slice oranges into rounds.
Arrange slices, overlapping each other slightly, on large platter. Scatter onion, mint and olives over oranges.
For vinaigrette, whisk vinegar with honey, mustard, cinnamon and salt. Slowly add oil while whisking constantly, until well combined.
Drizzle vinaigrette over salad and serve immediately.
Note: Any leftover dressing can be stored, tightly covered, in refrigerator for up to 5 days.