Joe Flacco: The right man for the job
Turron Davenport | 1/2/2015, 6 a.m.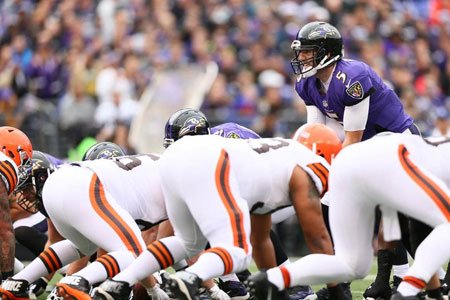 BALTIMORE — When you picture a former Super Bowl MVP quarterback, the image that comes to mind is a cocky, outspoken guy who is always the center of attention. However, the Baltimore Ravens' quarterback who won the Super Bowl MVP just two seasons ago is nothing like the stereotype. Despite that, Joe Flacco is just the right man for the job of leading the Ravens into the postseason.
Joe Flacco just completed his best statistical seasons as a professional. He set a career high with 27 touchdowns. He passed for 3,986 yards, which was a career high as well. If you ask Flacco, it was just another season. He finds more joy in the fact that the Ravens are in the playoffs and the team gets another chance. He warns us not to think that is the main goal.
"The goal is not to make the playoffs. That's the first part that needs to happen in order to achieve the goal." Flacco said. "I've been here through plenty of wins in the playoffs, losses in the AFC Championship. Believe me, when you lose those games, people aren't any happier just because we made the playoffs."
The Ravens found themselves stuck in a battle at halftime in their final regular season game against the Cleveland Browns. Someone had to step up and say something to get the team going. This used to be the job for Ray Lewis or Ed Reed. Both of them are gone. Flacco had something to say. That may surprise some people because of his calm and collective demeanor.
Torrey Smith spoke about what Flacco said and that it was no surprise to him that the words came from his quarterback. "Joe said 'Win the game.' He said it very intensely. Y'all like— Joe is the most boring guy in the world. He has some fire to him. You can't expect anything long from Joe but the delivery was powerful."
Head Coach John Harbaugh made sure that he pointed out that Flacco was the one to give the team words of encouragement. "Joe stepped up at halftime when he talked to the team briefly. He just made a point, kept it simple and said 'Let's go win a game.' That summed it all up for us. Just go do what we have to do to win a football game."
It seemed like Harbaugh was relieved that his quarterback took the initiative. "I can't remember a time he's done it before, I' m sure he said some things before but I was glad to hear it. He said it better than I did. I said what I said which was basically the same thing. My point was that we can't be playing scared— let's not play tight. Let's go make some plays. 'Just go win a game.' Joe said it right."
Flacco has the confidence that leaks over to his teammates. He may not be a "rah, rah" kind of guy and his direct way of saying things can come across as boring. He won't hesitate to say how highly he thinks of his teammates.