Ravens welcome Haloti Ngata back
Turron Davenport | 1/2/2015, 2:14 a.m.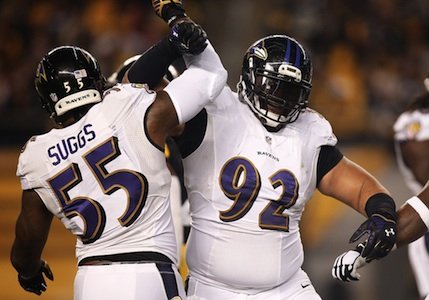 The playoff berth that the Baltimore Ravens clinched allowed Haloti Ngata to come back from his four
game suspension. The Ravens welcomed one of their best players back with open arms. Ngata opened
his press conference with an apology. "I just want to start off by saying that I did make a mistake." Ngata
continued; "I am a glad the team was able to get into the playoffs and hopefully I can help in this playoff
run. I am excited and thank that the team was able to get us into the playoffs so that I can play again."
Not being there to help his team took a toll on Ngata. "It was rough. I was talking to the guys. It felt like I was retired, watching the games, just watching football during the season." Ngata said that it wasn't
hard to stay in shape because he felt like he owed the guys and he wanted to be sure to make a
contribution in the playoff run. "I was training to maintain, to stay in shape with my cardio and be able
to come back and run." He said.
Terrell Suggs was very happy to have his friend back and felt that it was perfect timing. "Having Haloti
back couldn't have happened at a better time. He was missed a lot in the locker room especially by me."
Suggs said. "As soon as we won we were like 'Yo, we get Haloti back.' Now the locker room is kinda back
complete. It's good to have one of the best interior linemen in the game going into a playoff game like
this. We're glad to have him back but we know what we have to do."
Before his suspension, Ngata was playing some of the best football of his career. He finished the season
in a tie for the team lead in interceptions. That's a rare feat for a defensive lineman. Ngata was
consistently pushing the pocket back into quarterback's lap. He has posted high sack numbers but his
interior pass rushing ability definitely prevented a lot of quarterbacks from stepping up.
Ngata said that he talked to Coach Harbaugh for a little bit in his office. He said that Harbaugh was
excited that he was back. Ngata smiled as he talked about how his coach got a feel for how much he
worked out. "He wanted to make sure that I was in shape. He gave me a poke in the stomach to check.
It's always going to be soft and I don't know if there will be anything that will stop it."
Coach Harbaugh was especially happy to have his All Pro defensive lineman back. "It was good, great to
have him out there. I talked to him on Monday and it's just great to have him back. We will see
tomorrow how he moves around. He's been training, he looks good. I am sure he's busting out of his
skin and will be ready to go." He said.