Fitness expert gives seven key tips to keep New Year's fitness resolutions
Andrea Blackstone | 1/9/2015, 6 a.m.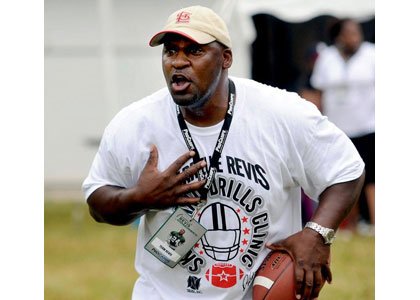 Making manageable New Year's fitness resolutions from the beginning can help avoid stress and frustration. Finding a personal trainer can be a great benefit that pays off in numerous ways.
Kenny Gray, a certified personal trainer who is based in Severn, Maryland., is a fitness expert who possesses 18 years of experience in the fitness industry. Gray trains individuals from five-years-old to college-age athletes. From 2006 to 2011, he owned and operated a studio in Odenton, Maryland, called Graystone Fitness. Gray provides seven key tips to jump-start fitness resolutions:
1. Discuss and establish you fitness goals - Making a financial, physical and psychological commitment increases the likelihood that a training program will be successful. In Maryland, fitness trainers charge from $50 to $100 hourly. One hour is a standard time to hire an expert for a session, although some adjust the typical format for beginners. Gray recommends that clients should discuss fitness goals, while establishing a realistic time frame to achieve them with a trainer's assistance. Potential success can begin with how hard a client is willing to work.
2. Get a professional assessment to determine your fitness level - Instead of labeling new clients by terminology like "beginner" or "expert," Gray designs workout routines by making an individual assessment to determine the suitability of an exercise program.
"Assessment is about two things. One involves oxygen testing. How much oxygen is being delivered to the working muscle? For example, I use a test like running on a treadmill. For the second part, various exercise machines are used to determine the capacity of oxygen stored in each muscle," Gray said.
3. Be prepared to work to achieve long-term results - "The first thing you have to do is keep a positive attitude. Even sports professionals need a trainer. We're motivators— that's why trainers and coaches show up. We push you to a limit you ordinarily wouldn't push yourself to. It's a partnership," Gray said. "We can't make you do what you don't want to do. Every client is the boss. I'm your servant. I work for you."
4. Be realistic - Gray said that starving the body is not the answer to achieving weight loss goals.
"It slows down the metabolism. Diet depends on the individual's activity and lifestyle. Each activity has a recommendation of what an individual should eat and drink," Gray said.
In addition to food and water consumption, rest can impact fitness results.
"If you're not ready for something, don't put yourself in a psychological downfall, because if you don't stick to your exercise plan, you may feel guilty that you're not exercising."
Quick fixes won't be achieved in short periods of time, if clients want to maintain long- term results. However, common challenges such as surpassing a plateau, are possible.
"All you have to do is change what you're doing. Nine times out of ten it's because you're doing the same thing," Gray said.
5. Set yourself up to succeed - Gray explained that one way of coping with busy schedules is by skipping gym fees and opting to build a home gym instead.