Justin Tucker has been Mr. Consistency in football and his faith
Turron Davenport | 1/9/2015, 6 a.m.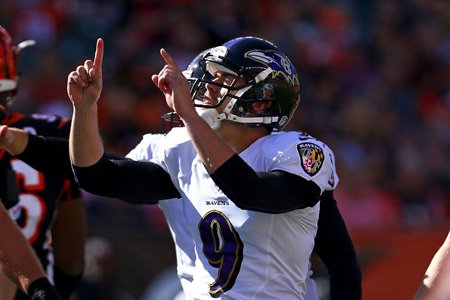 Justin Tucker would probably not be the name that the average fan would mention if they were asked who the leading scorer for the Baltimore Ravens was in 2014. They would be even more surprised if they were told that Tucker's 127 points almost doubled the next closest player's total (Torrey Smith 67 points). The Ravens place a major emphasis on special teams. This is because John Harbaugh has a background as a special teams coach prior to becoming the head coach of the Ravens.
Things have come full circle for the Ravens and Harbaugh now that they are set to face the New England Patriots in Foxboro for a fourth post season match up. The only loss that the Ravens suffered to the Patriots was in 2011 when Billy Cundiff missed a 32-yard field goal that would have tied the game. It cost the Ravens a shot at going to the Super Bowl. Harbaugh knew that he needed to get a reliable kicker if his Ravens wanted to get to the Super Bowl the following year.
Justin Tucker was brought in as an undrafted rookie free agent to compete with Cundiff. Tucker earned the starting job as the Ravens official place-kicker after an impressive showing in which he was very accurate when kicking field goals during the team's preseason games. The Ravens released Cundiff in August of 2012. They ushered in the Justin Tucker era, which has been one of the most accurate and consistent in NFL history.
Tucker holds the following franchise and NFL records:
Ravens franchise records
•Most field goals in a single season - 38 (2013)
•Most points scored in a single season - 140 (2013)
•Most field goals in a Single Game - 6 vs. Detroit Lions (2013)
•Longest field goal - 61 yards vs. Detroit Lions (2013)
NFL records
•Longest field goal in a domed stadium - 61 yards vs. Detroit Lions (2013)
•First NFL kicker to kick a field goal in the 20s, 30s, 40s, 50s, and 60s in the same game
Tucker has been a top-flight kicker since his days at Westlake High School right outside of Austin, Texas. One of his high school teammates was Nick Foles, the quarterback for the Philadelphia Eagles. Tucker played in the U.S. Army All-American Bowl for high school football players. He then went to the University of Texas where he kicked a game- winning field goal which concluded a 118 game rivalry with the University Of Texas A&M.
Tucker does not hesitate to show his faith before he attempts to kick a field goal when he makes the sign of a cross.
"More than anything, it's just to give glory and say thanks for the opportunity," Tucker explained in a 2012 interview. "Not many people get to do what I do, only 32 guys get to do what I do. I'm just ever thankful for the opportunity whenever it presents itself. I really just ask more than anything that God's will be done, and I'm happy with it."