Golden Globes: Shockers, romance and Cosby jokes
Rapper Common, singer John Legend win for song from "Selma"
Lisa Respers France | 1/12/2015, 8 a.m.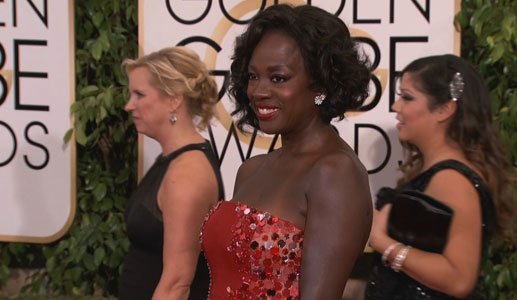 (CNN) — The 72nd Golden Globes started out pretty much how we expected with Tina Fey and Amy Poehler hosting: irreverent and funny.
The pair made jokes about everything from the "spoiled" actors and actresses to the marriage of George Clooney and the controversy surrounding North Korea's issue with the Sony film "The Interview."
"Tonight we celebrate all the great television shows we know and love as well as all the movies that North Korea was okay with," Fey said.
There was a moment of uncomfortable tittering in the audience when Poehler took on the controversy of allegations that Bill Cosby had drugged and sexually assaulted women.
"In 'Into the Woods' Cinderella runs from her prince, Rapunzel is thrown from a tower for her prince, and Sleeping Beauty just thought she was getting coffee with Bill Cosby," Poehler said.
There was also a running joke with actress Margaret Cho, playing a North Korean general who was not happy with the way the awards show was progressing.
"This is not a show, you no have thousand baby playing guitar at the same time," Cho said in character. "You no have people holding up many cartoon to make one big picture. You no have Dennis Rodman. No basketball at all."
Fey earlier told E! that she and her bestie Poehler were going to take advantage of being in the final year of their three-year Globes contract to push the envelope with their humor.
"Listen, it's our last time!" she said. "What are they going to do, fire us?! Who cares!"
Theo Kingma, president of the Hollywood Foreign Press Association, received a standing ovation when he referenced the attacks in Paris.
"We will stand against anyone who would repress free speech anywhere from North Korea to Paris," he said. The 72nd Golden Globes is produced by the Hollywood Foreign Press Association and is viewed by many in Hollywood as a good predictor for the Oscars.
Music legend Prince surprised the crowd when he showed up to present the award for best original song in a motion picture. The award went to rapper/actor Common and musician John Legend for their song "Glory" from the film "Selma."
Common said that in working on the project he "got to know the people of the civil rights movement" and in doing do realized that he was "the hopeful black woman who was denied her right to vote."
"I am the caring white supporter killed on the front lines of freedom," he said. "I am the unarmed black kid who maybe needed a hand but, instead, was given a bullet. I am the two fallen police officers murdered in the line of duty. 'Selma' has awakened my humanity."
The coming of age movie "Boyhood," which was filmed over 12 years, took home the biggest award of the night, best motion picture, drama. Patricia Arquette also won for best supporting actress for her role in the film and its director, Richard Linklater, also scored a Golden Globe.
Eddie Redmayne won a best actor in a motion picture drama Golden Globe for "The Theory of Everything" and Julianne Moore won the best dramatic actress award for her work in the film "Still Alice."