Pasadena barber, Annapolis minister make community impact by giving back
Andrea Blackstone | 1/16/2015, 6 a.m.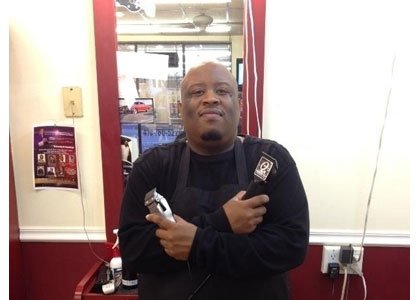 ANNAPOLIS — Monzy Lee Faulkner, Jr., owner of All In His Hands Barbershop in Pasadena and Rev. Dr. Carletta Allen, pastor of Asbury United Methodist Church in Annapolis are among this year's local honorees recognized for helping to keep the legacy of Dr. Martin Luther King, Jr. alive by making contributions to their communities.
A consortium of organizations selected ten recipients to be honored during the annual Dr. Martin Luther King, Jr. Awards dinner held Friday, January 16, 2015 at La Fontaine Bleue in Glen Burnie.
In the spirit of Dr. King's ideals to create a better world and promote equality for all Americans, area residents like Faulkner and Allen have given time and service to make a difference in the lives of others in their communities.
Faulkner, 39, was nominated by Bishop Larry Thomas to receive this year's Drum Major Award.
Faulkner, a successful entrepreneur, started giving back to youth and adults, while paying the cost to host community events out of his own pocket.
Faulkner purchased and distributed school supplies in the community for over seven years. He reportedly feeds the homeless, sponsors little league football teams— such as the Pasadena Chargers and Brooklyn Park Broncos— supports area churches and donates free haircuts to children each September during Freetown Day.
Within the past year, some of Faulkner's clients were inspired to step up to help others along with him.
"They saw the things I was doing [and] they started donating, which was a help to me," Faulkner said.
Although the Glen Burnie resident remarked that receiving recognition for his generous community work brings joy to his heart Faulker says he does it without expectation of recognition or reward.
"It's just the kind of heart that I have," Faulker said humbly. "I just feel like it's important for me to give back to the community, because God [gave] me the opportunity to have a successful business for over 20 years. I also feel like it's my obligation to help the people in the community any way possible."
Reverend Allen was selected to receive the Dream Keepers Award. She gained recognition as a vocal advocate for the rights of workers, some of whom reportedly work two or three part-time jobs.
"I was shocked when I got the notification for a couple of reasons. I am very new to the community. I haven't seen myself as making a lot of contributions to the community, although there were some people saying that I have changed the dynamics in this town. I'm very humbled by it," Rev. Allen said.
Allen was handcuffed and arrested in 2013, after a march to Lawyer's Mall to bring attention to the plight of workers at BWI Thurgood Marshall Airport.
Along with other members of the organization, Interfaith Worker Justice of Maryland and airport concession workers, Rev. Allen blocked the entrance of the State House in Annapolis.
Because of the efforts of various organizations and comunity leaders to fight for the rights of hospitality workers led to Govenor Martin O'Malley signing legislation to raise the state's minimum wage from $7.25 to $10.10 an hour by 2018.