Chilly Treats for Every Summer Occasion
7/2/2015, 1:24 a.m. | Updated on 7/2/2015, 1:24 a.m.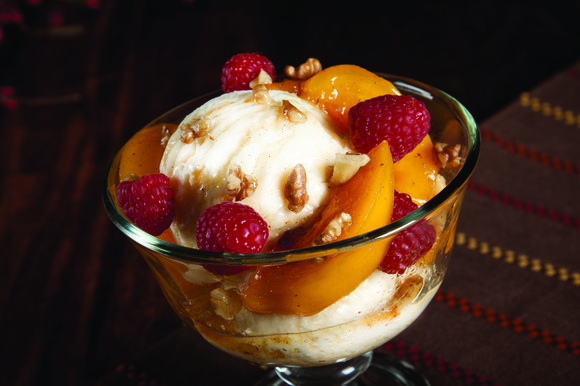 continued — Thirty minutes before serving, cut kiwi into thick slices, then cut slices into quarters. Place in medium bowl along with other fruit. Heat preserves in microwave-safe bowl, just until melted (20 seconds in a 1250 watt microwave), breaking up large pieces of fruit. Pour over fruit and toss to coat; chill 15 to 20 minutes.
Remove prepared ice cream sandwiches from freezer, cut each into bite-size squares; arrange with glazed fruit in 4 dessert bowls or plates.
Fruit Salsa Sundaes
Prep time: 10 minutes
Makes: 4 servings
1 cup fresh pineapple chunks
1 tablespoon light brown sugar
6 medium fresh strawberries, diced
1 large kiwi, peeled and diced
1/8 teaspoon ground cumin
4 small firm bananas, cut in half lengthwise
8 1/3 cups Blue Bunny Premium Banana Split Ice Cream
Fat-free whipped topping, optional
Chocolate sprinkles, optional
4 maraschino cherries, optional
In medium skillet over medium-low heat, cook pineapple and brown sugar just until pineapple is softened, 5 minutes. Add strawberries, kiwi and cumin; cook several minutes until fruit is heated through.
Arrange 2 banana halves in each of 4 dessert bowls; top each with 2 scoops ice cream. Spoon glazed fruits equally over ice cream. Garnish with whipped topping, chocolate sprinkles and a maraschino cherry, if desired. Serve immediately.