Sun and Skin
The Dark Side of Sun Exposure
7/13/2015, 11:15 a.m. | Updated on 7/13/2015, 5:11 a.m.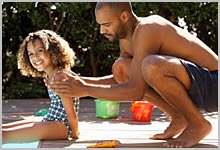 BALTIMORE,Md. — People enjoy the sun. Some have even worshiped it. Sunlight is essential to many living things. But sunlight also has a dangerous side. It can harm your skin and even your eyes. The good news is you can take some simple steps to protect your body from sun damage and still enjoy the sun's healthful effects.
Our bodies were built to make good use of the sun. Sunlight helps keep our sleeping patterns on track so we can stay awake by day and sleep soundly at night. Getting too little sun, especially in winter months, can leave some people prone to a form of depression known as seasonal affective disorder. Sunlight also helps our skin make vitamin D, which is needed for normal bone function and health. Yet sunlight can also cause damage.
Sunlight travels to Earth as a mixture of both visible and invisible rays, or waves. Long waves, like radio waves, are harmless to people. But shorter waves, like ultraviolet (UV) light, can cause problems. The longest of these UV rays that reach the Earth's surface are called UVA rays. The shorter ones are called UVB rays.
Too much exposure to UVB rays can lead to sunburn. UVA rays can travel more deeply into the skin than UVB rays, but both can affect your skin's health. When UV rays enter skin cells, they upset delicate processes that affect the skin's growth and appearance.
Over time, exposure to these rays can make the skin less elastic. Skin may even become thickened and leathery, wrinkled, or thinned like tissue paper. "The more sun exposure you have, the earlier your skin ages," says Dr. Barnett S. Kramer, a cancer prevention expert at NIH.
Your skin does have ways to prevent or repair such damage. The outermost layer of skin constantly sheds dead skin cells and replaces them. You might have noticed this type of skin repair if you've ever had a bad sunburn. Your skin may peel, but it usually looks normal in a week or 2.
"When you're exposed to ultraviolet radiation, there's a repair process that goes on constantly in each one of your exposed cells," says Dr. Stephen I. Katz, director of NIH's National Institute of Arthritis and Musculoskeletal and Skin Diseases. Still, long-term damage to your skin can remain.
As you get older, it becomes harder for skin to repair itself. Over time, UV damage can take a toll on your skin and its underlying connective tissue. As a result, your skin may develop more wrinkles and lines.
Too much sun exposure can also raise your risk for skin cancer, the most common type of cancer in the United States. When UV light enters skin cells, it can harm the genetic material (called DNA) within.
DNA damage can cause changes to cells that make them rapidly grow and divide. This growth can lead to clumps of extra cells called a tumor, or lesion. These may be cancerous (malignant) or harmless (benign).
Skin cancer may first appear as a small spot on the skin. Some cancers reach deep into surrounding tissue. They may also spread from the skin to other organs of the body.