Meatless Monday: Stuffed Crust Tomato Basil Pizza With Vegan Mozzarella
7/20/2015, 2 p.m. | Updated on 7/3/2015, 8:41 a.m.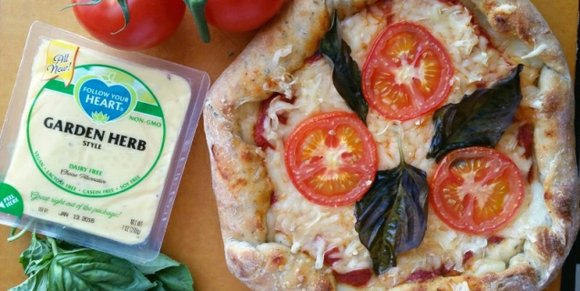 BALTIMORE,Md. — 1 16-oz. pkg. Trader Joe's pizza dough (or make your own)
1 7-oz. block Follow Your Heart dairy-free mozzarella or garden herb cheese
1/3 cup vegan pizza sauce
1 medium tomato, thinly sliced
3 fresh basil leaves
1 Tbsp. olive oil
Preheat the oven to 450˚. Stretch out the pizza dough to the desired thickness and place on a lightly oiled and floured baking pan.
Cut 1/3 of the block of cheese into 4 or 5 strips. Place around the edges of the pizza, then roll the edges of the dough up over each strip and press down to create an enclosed pocket of "cheese."
Shred the remaining dairy-free cheese. Spread the vegan pizza sauce evenly over the dough, then sprinkle with the shredded vegan cheese.
Top with the slices of tomato. Dip the basil leaves in the olive oil, then chop and sprinkle over the pizza.
Bake for 20 minutes, or until the "cheese" is melted and the crust is nicely browned.
Makes 3 servings