WANN radio's history becomes part of Smithsonian exhibit
Andrea Blackstone | 7/20/2015, 7:08 a.m.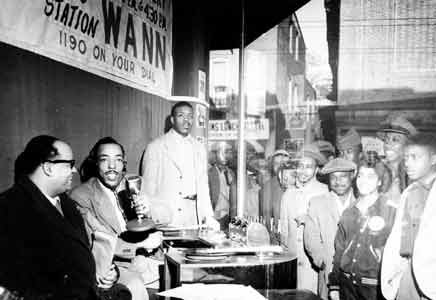 There was an era when playing black music on the radio was nearly forbidden, but the late Morris H. Blum was not deterred. The Jewish immigrant who founded the historic Annapolis-based WANN radio station in 1947, was one of the first in Maryland to play "race music"—blues, jazz and gospel music when Annapolis was still segregated. Blum also hired an Annapolitan named Charles W. "Hoppy" Adams to be a disc jockey (DJ).
In the late 1960's, Adams became the station's executive vice president. While rejecting segregation, Blum allowed community members to voice their concerns on air. Now, these important parts of local history that weave the story of WANN, Blum and Adams will be permanently on display at the Smithsonian's National Museum of American History, as a part of an exhibit called American Enterprise. The opening of the exhibit was held on July 1, 2015 in the Mars Hall of American Business.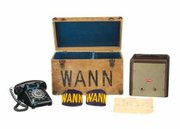 Although Adams became WANN's star radio personality, he initially worked in Annapolis at Chambers Barber Shop and drove a taxicab. Deni Henson, executive director of the Hoppy Adams Foundation recalls the story that Adams told her about how he found his way to radio. During the time of segregation, Hal Jackson was a popular black DJ who reportedly enlisted his talents at five or six D.C. area radio stations. Mr. Blum wanted to try something new at WANN with Jackson, but Jackson's hectic schedule presented difficulties.
"It got very busy for him, so they held a contest looking for someone here in Annapolis to assist Mr. Jackson, so it would take off some of the pressure of him traveling, because he lived in D.C. They held a contest and Hoppy was asked to audition. He did it reluctantly, and they picked him," Henson said.
Jackson ended up becoming Adams' mentor. Afterwards, Adams worked at WANN.
"If it wasn't for WANN, which was one of the first stations (in this area) playing black music, a lot of stars, and especially people like James Brown, would not have made it the way they did, because the DJs had to play your music. That's how people would hear about you and buy your songs," Henson said.
Dr. Larry Blum—the son of Morris Blum—also knew Adams. He recounted how bushels of fan mail started coming into the station, after black music first entered WANN's airwaves, when music fans still had transistor radios. He said that when Adams began working at the station in 1953, Adams brought people together who might not otherwise have known each other.
"My father began to realize there was an underserved community. Being a minority status himself, he was fairly interested in…how to help. He gradually became more and more bonded to the people that were helping to support his business," Larry said.
The Annapolitan explained that allowing Carl Snowden and other activists to get on the air to express themselves was a huge part of what WANN did. Larry explained that his father was equally or more concerned about public service as he was about profits.