Ravens 2015 Training Camp positional preview: Wide Receivers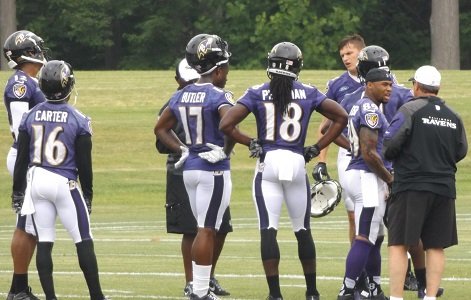 BALTIMORE — There was a buzz among the media about the Baltimore Ravens wide receivers throughout OTAs and mini-camps. The receiver unit features an array of talent that Joe Flacco and the quarterbacks will throw to in training camp. It will be an interesting battle for the opportunity to replace Torrey Smith who moved on to the San Francisco 49ers via free agency. That competition will be one to focus on when training camp begins.
READ MORE: Ravens 2015 Training Camp positional preview: Tight End
Starters: Steve Smith Sr., Kamar Aiken
Steve Smith Sr. is back for what may be his final year playing in the NFL. He showed that he still has the ability to be a force when he dominated OTAs and mini-camp. Smith Sr. was able to get open on a variety of routes and still has the speed to beat defensive backs on deep balls. He is a great influence on the younger receivers. They always talk about how much they learn from him about playing the position. Smith Sr. will primarily work from the outside which is where he has made his mark in the NFL during his 15 year career.
Kamar Aiken took most of the reps with the first team during OTAs and mini-camp. Aiken is a big physical receiver that will be a possession guy for the Ravens. He excels at getting off of the jam and going across the middle. Aiken can be a red zone threat because of his ability to get open quickly on slant routes. The former journeyman is looking to prove that he is worthy of starting on the opposite side of Steve Smith Sr.
In the rotation: Breshad Perriman, Marlon Brown, Jeremy Butler, Michael Campanaro
Breshad Perriman is a receiver that attacks the football when it is in the air. Judging from OTAs and mini-camp, the Ravens will make it their mission to feature Perriman as a deep threat. He is the best option to fill the vertical ability that the team lost when Torrey Smith left. Perriman is a tough receiver with a big body that can work the deep crossing routes as well as the nine route. It looks like he will be the X receiver, meaning he will be the guy lining up on the ball. This means he will have to beat plenty of press coverage which is something that he has worked on with Coach Bobby Engram. It is very possible for Perriman to take hold of a starting spot.
Marlon Brown is another big body receiver. Marc Trestman really liked to utilize Brandon Marshall in the slot when he coached the Chicago Bears. Brown has similar size to Marshall and will get the opportunity to work the middle of the field in Trestman's offense. He will also be someone that they look to in the seams. Brown is looking to rebound from a down year last season and is very excited about this new scheme.
Jeremy Butler has been a hot name for the Ravens. He caught everything that was thrown his way during OTAs and mini-camp. He was on injured reserve last season and is eager to take advantage of every rep that he gets. Butler excelled at the slot position while at University of Tennessee-Martin and will get to show what he can do in the power slot in Trestman's offense. He is very capable of playing on the outside as well.