Area teens grow confidence to 'Engineer Like a Girl'
CSM encourages girls in engineering careers during free workshops, tour
7/31/2015, 9:32 a.m.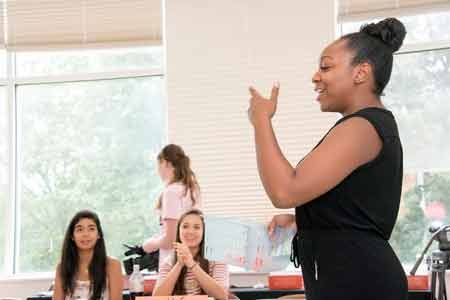 St. Mary's Ryken High School junior Nicole Hedspeth's understanding of the vast career opportunities for women engineers grew exponentially—as did her excitement for her future—during the weeklong "Engineer Like a Girl" program at the College of Southern Maryland's Leonardtown Campus.

This was the exact outcome that CSM Pre-Engineering Coordinator Shadei Jones was striving for when she began developing the program last fall.
According to the American Society for Engineering Education, women make up only 20 percent of engineers. Part of the problem is the lack of understanding of what it is that engineers do and the types of jobs they can have. To help increase understanding of engineering among middle and high school girls in Calvert, Charles and St. Mary's counties, the College of Southern Maryland offered a free wee-long camp in July for girls to learn about careers in the field of engineering.
"The aim of 'Engineer Like a Girl' is to create awareness and familiarize high school girls in Southern Maryland with career opportunities in the field of engineering. .There are negative stereotypes associated with women's ability to pursue careers in science and we wanted to replace those with positive images of exciting jobs and opportunities for female engineers," said Jones who has a degree in manufacturing engineering.
Throughout the week, the 10 students made daily journal entries on what they were experiencing. Hedspeth shared her thoughts midway through the week, writing, "Today was the first time in a long time I got the opportunity to think realistically about my future. I thought it was really important to talk about how it's not just academics that are important in college and in getting a job later on— it's about working on your attitude and really loving what you do. This program gave me a lot of confidence to be an engineer and an edge in knowing what I want to do with my life."
Hedspeth, of Lexington Park, and nine other girls participated in workshops, hands-on activities and projects in a wide range of engineering disciplines. The week's activities included building their own cell phone detector with the help of CSM alumna Jehnae Linkins, a biomedical engineering PhD candidate at the University of Delaware. They attended a career workshop with CSM Career Coordinator/Academic Advisor Tamara Cherry-Clark and a lecture on the power of self-confidence, "You v. You," by Antoinette Jackson of Heart of Appreciation.
"This program has helped to build my confidence as a female wanting to be an engineer," said Hedspeth. "Not only did the guest speakers give us words of encouragement, they answered questions on engineering and provided helpful advice on what we would need to accomplish in high school before applying to colleges."
"The camp was very helpful in showing me the need for women engineers and the different career options available in engineering," said Riley Hines of La Plata, an incoming sophomore at Maurice J. McDonough High School. "Not only was the program about women as engineers, it was about how we need to make sure that we are staying positive and making great life choices—or else we won't be getting into the college that is our first choice, or we won't get the engineering job of our dreams."