BJ Penn to be inducted to UFC® HALL of FAME
6/1/2015, 6:30 p.m. | Updated on 6/1/2015, 4:58 a.m.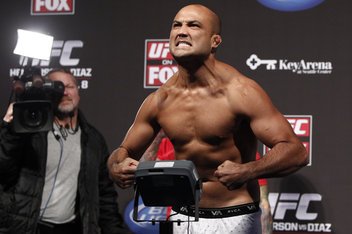 The final 2015 inductee for the reinvigorated UFC® Hall of Fame will be legendary two-time, two-division UFC world champion BJ Penn. Known as "The Prodigy" throughout his amazing 13-year, 16-10-2 professional mixed martial arts career, Penn takes his place in the Modern Era category of the UFC Hall of Fame.
The Modern Era category recognizes great fighters who turned professional on or after November 17, 2000, when the Unified Rules of Mixed Martial Arts (MMA) were created and widely adopted. Penn turned professional on May 4, 2001, at UFC 31.
The announcement was made moments ago on the UFC 187 Prelims broadcast on FOX Sports 1. Penn's formal induction will take place at a gala event on Saturday, July 11, at the UFC Fan Expo®, during the UFC's annual International Fight Week™ in Las Vegas.
UFC President Dana White said: "It is our honor to induct BJ Penn into the UFC Hall of Fame. He was one of those stars who helped build the UFC. When we bought this company, we were told no-one cared about lightweights. BJ Penn not only made people care, he was one of the biggest draws in UFC history. And what he accomplished inside the Octagon speaks for itself - he is one of only two people to win two UFC titles in two different divisions and he beat a who's who of his era. He is a legend and a no-brainer for the UFC Hall of Fame."
Born Jay Dee Penn on December 13, 1978, "Baby Jay" is believed to have earned a legitimate Brazilian Jiu-Jitsu black belt faster than any practitioner of the martial art. He was awarded the honor by André Pederneiras in 2000, aged 20, less than three years after taking his first lesson. Penn validated his black belt status just weeks later, when he became the first American to ever win the black belt division of the World Jiu-Jitsu Championships.
Because of the speed of Penn's achievements in BJJ, he was dubbed "The Prodigy" - a moniker which he carried into his MMA – and UFC – debut vs Joey Gilbert at UFC 31 on May 4, 2001.
"Nothing personal, I just want the belt," Penn said after scoring a first round knockout.
The first UFC championship came at welterweight, when he choked out the previously unstoppable Matt Hughes in the opening round of their UFC 46, January 2004, clash. However, Penn never defended the title, spending the next two years competing outside of the UFC organization.
A truly fearless competitor who's self-belief knew few boarders, Penn defeated both Renzo Gracie and Rodrigo Gracie in middleweight bouts outside of the UFC; he even took a 225lbs Lyoto Machida the distance in a heavyweight fight.
Whether inside or outside the Octagon®, Penn fought the best of the best and his scalp list includes luminaries like Caol Uno, Matt Serra and Takanori Gomi.
But it was his achievements in the UFC lightweight classes that Penn cemented his legacy as one of the very best of all time.