VIDEO: White teen who shot pool party video sounds off
Some say Eric Casebolt was targeting black teens; others say his actions were justified
Holly Yan and Nick Valencia | 6/9/2015, 11:18 a.m.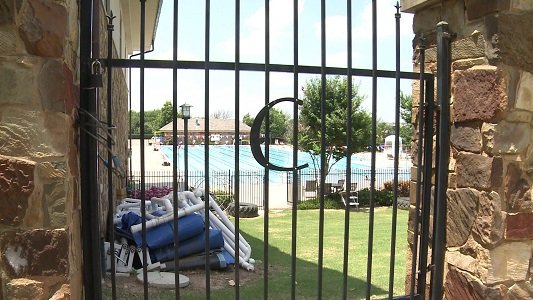 MCKINNEY, Texas (CNN) — Dueling narratives are emerging about whether race played a role in a Texas officer's handling of black teenagers at a pool party. But who's offering those narratives may be surprising.
A black resident says race didn't play a role. A white resident says it did.
A seven-minute video shot by a witness captures much of the confrontation Friday. It shows McKinney police Officer Eric Casebolt cursing at several black teenagers, pulling a 14-year-old bikini-clad girl to the ground and kneeling on her back.
Casebolt also unholsters his gun and chases teenage boys as they approach him while he is trying to keep the girl down.
White witness: It was racially motivated
Brandon Brooks, the 15-year-old white teen who shot the video, said there's no doubt race was a factor. He said the officer was targeting black teens at the scene.
"I was one of the only white people in the area when that was happening," Brandon told CNN affiliate KDAF. "You can see in part of the video where he tells us to sit down, and he kinda like skips over me and tells all my African-American friends to go sit down."
Brandon said the quarrel that drew police to the pool party didn't even involve most of the teens Casebolt was going after.
"It was a fight between a mom and girl, which had nothing to do with all the other kids," he told KDAF.
Brandon said he was unnerved to see his friend tackled and pressed to the ground.
"I think she was 'running her mouth,' and she has freedom of speech, and that was very uncalled for him to throw her to the ground," he said.
Black resident: This was not a racially motivated event
Benet Embry, a 43-year-old black resident, saw things differently.
Embry has lived at Craig Ranch, a planned community in McKinney, for eight years. He said it's a nice place. Racially diverse. People get along there.
He said when he was at the community pool Friday, a crowd of teenagers showed up -- even though Craig Ranch's strict homeowners' association rules prohibit bringing more than two guests to the pool.
The teens huddled by the gate and shouted to let them in. Some jumped over the fence, Embry said. A security guard tried to get them to leave but was outnumbered, so the guard called police.
"Let me reiterate, the neighbors or the neighborhood did not call the police because this was an African-American party or whatever the situation is," he said. "This was not a racially motivated event -- at all. This whole thing is being blown completely out of proportion."
Embry did say he was disturbed to see the officer kneel on top of the bikini-clad girl and wave his gun at other teens.
"I may or may not agree with everything that the police officer did, but I do believe he was trying to establish order," he said.
City officials: We're hearing support and concerns