Quick Hits and Quotes from Day One of Ravens Mini Camp
Turron Davenport | 6/17/2015, 7:19 a.m. | Updated on 6/17/2015, 7:19 a.m.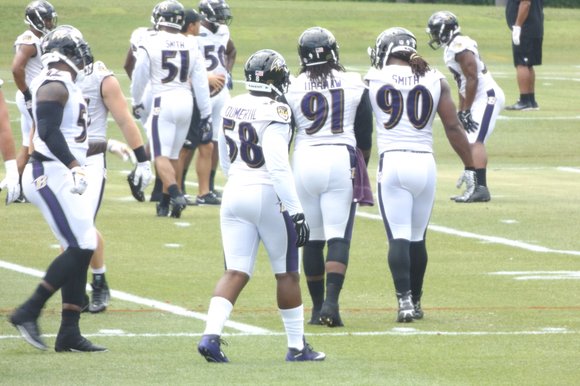 BALTIMORE,Md. — The Baltimore Ravens kicked off their mandatory mini-camp on Tuesday. It marked the return of Terrell Suggs and Elvis Dumervil for the 2015 season. The Ravens welcomed back most of the veterans for the three day mini-camp.
There were a few veterans not at practice including: Center Jeremy Zuttah (hip), Right Tackle Rick Wagner (foot), Wide Receivers Mike Campanaro (quad) and Aldrick Robinson (knee) and Tight End Dennis Pitta. Pitta is still waiting to be cleared to practice and is not likely to return until at least training camp. Campanaro and Aldrick Robinson are also going to be out until July's training camp.
The Ravens wide receivers had a solid practice today. Steve Smith Sr. made a series of very nice catches, two of which were deep receptions during team period. He beat Lardarius Webb on a double move on the first play of team practice. Smith Sr. is clearly ready to go and is showing zero signs of age.
Rookie Breshad Perriman continues to do an outstanding job of attacking the ball. He had a few drops during individual periods but he rebounded well as practice went along. It is clear that the Ravens are looking to take frequent deep shots to Perriman.
Jeremy Butler continues to impress and he has become a favorite target for Joe Flacco. Butler is working at the slot position and as an X receiver. It is clear that Flacco trusts Butler and is targeting him frequently. Undrafted rookie free agent DeAndre Carter also turned in a solid day, hauling in consecutive catches in the corner of the end zone.
Quick Hits:
Kicker Justin Tucker drilled a 68 yard field goal and had room to spare. The field goal caused Steve Smtih Sr. to turn to General Manager Ozzie Newsome and yell; "Pay the man." Tucker missed from 58 yards on his next attempt.
Left Tackle Eugene Monroe looks a lot slimmer. His body appears to be leaner and he moved well during offensive lineman drills.
Safety Kendrick Lewis had the first interception of the day when he stepped in front of a pass from Matt Schaub that was intended for Perriman.
Rookie tight end Nick Boyle made a catch but had the ball taken away from him by cornerback Quinton Pointer. Pointer returned it for what would have been a touchdown. Boyle walked off the field and was scolded by Steve Smith Sr. for doing so after giving up a turn over for a would be touchdown. Boyle was sure to secure the ball during the receptions that he made afterwards.
Second year safety Terrence Brooks continues to progress as he recovers from his knee injury last year. He participated in seven on seven and some team periods.
Rookie tight end Maxx Williams landed awkwardly on his right shoulder as he dove for a pass. He had his abdomen looked at by trainers but returned for the rest of practice.
Rookie Guard Robert Myers and Wide Receiver Cam Worthy were both out of practice.