VIDEO: Charleston church shooting: 9 'killed because they were black,' official says
Ralph Ellis and Ed Payne | 6/18/2015, 10:49 a.m.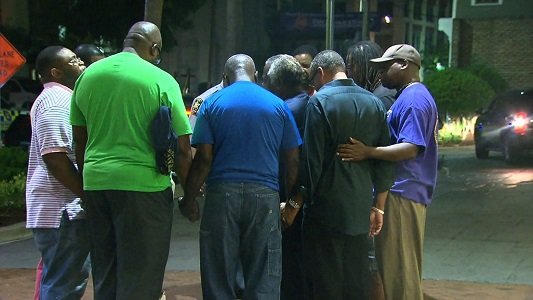 He didn't start shooting right away.
The white man spent an hour in a prayer meeting at the historic African-American church in Charleston, South Carolina, on Wednesday night before he opened fire, Charleston police Chief Greg Mullen said Thursday morning.
Nine people were killed -- six females and three males, Mullen said. Three people survived, including a woman who received a chilling message from the shooter.
"Her life was spared, and (she was) told, I'm not going to kill you, I'm going to spare you, so you can tell them what happened," Charleston NAACP President Dot Scott told CNN. Scott said she heard this from the victims' family members.
The suspect was still at large Thursday as law enforcement officers combed the region.
Federal authorities have opened a hate crime investigation into the shooting at the Emanuel African Methodist Episcopal Church, the oldest AME church in the South, the Department of Justice said.
"The only reason someone would walk into a church and shoot people that were praying is hate," Charleston Mayor Joe Riley said.
Eight churchgoers died at the scene; a ninth at a hospital, police said.
Among the victims was the church's politically active pastor, the Rev. Clementa Pinckney, his cousin, South Carolina state Sen. Kent Williams, told CNN.
Pinckney was also a state senator and one of the black community's spokesmen after the slaying of an unarmed man by a North Charleston police officer earlier this year.
There were 13 people inside the church when the shooting happened -- the shooter, the nine people who were killed and three survivors, South Carolina state Sen. Larry Grooms, who was briefed by law enforcement, told CNN. Two of the survivors were not harmed, he said.
The shooter spent about an hour inside the church attending a regular Wednesday night prayer meeting before he started shooting. It was not clear if the man targeted any individual.
"We don't know if anybody was targeted other than the church itself," he said.
Authorities said they were shocked not only by the killings but that the violence occurred in a house of worship.
"People in prayer Wednesday evening. A ritual, a coming together, praying, worshiping God. An awful person to come in and shoot them is inexplicable," Riley said.
Historic significance
Emanuel African Methodist Episcopal Church has been a presence in Charleston since 1816, when African-American members of Charleston's Methodist Episcopal Church formed their own congregation after a dispute over burial grounds.
It was burned to the ground at one point, but rebuilt. Throughout its history, it overcame obstacle after obstacle -- destroyed by an earthquake, banned by the state. But its church members persevered, making it the largest African-American church in terms of seating space in Charleston today.
Mullen said video cameras at the church show the suspect is in his early 20s and stands 5 feet, 9 inches tall. "He has on a very distinctive sweatshirt as well as the vehicle, with a very distinctive license plate," the chief said.