Father and young son build unique bond through art
Andrea Blackstone | 6/19/2015, 5:31 a.m.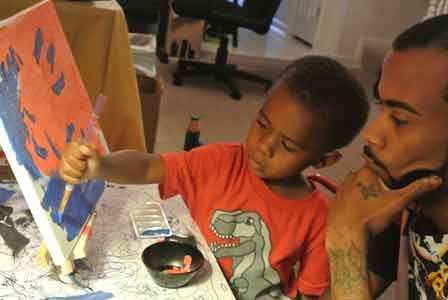 Twenty-eight-year old Artist Comacell Brown Jr. also known as Cell Spitfire, and Carmello Brown, age three, share a unique father-son bond. The pair engages in outdoor activities like feeding ducks in downtown Annapolis, or admiring flying Blue Angels in a prime viewing location. However, Carmello is a budding artist, too. He is already receiving fundamental painting lessons, including proper brush stroke techniques and color blending, from Comacell. Many who know the creative duo regard Carmello as "Comacell's Little Helper." Comacell is a professional painter, graphic artist and entrepreneur who graduated from The Art Institute of Atlanta.
"I want him [Carmello] to feel like no matter what you do, it can be cool if you make it cool. You don't have to just be a rapper or an athlete like everybody else. You can make painting cool. You can make being a doctor cool. I don't want it to seem like he has to be afraid to do anything. I like for him to the take the world head on and smile about it," Comacell said.
On Instagram, Comacell shared that the lifestyle that Carmello is living will groom him to have confidence, enabling the young boy to be anything that he puts his mind to accomplish. Comacell began showing early signs of those beliefs, when he developed an interest in art, while being raised by his grandparents—Joyce and James Johnson.
"Drawing was like my way to still have fun and then be excited about what I do, by being in the house, and staying out of trouble," Comacell said.
His passion for painting blossomed during summer camp at the Salvation Army in Annapolis. Comacell was a third or fourth grade student when he won a camp art contest. He continued drawing cartoon characters, then progressed to selling clothing with his painted creations on them. While attending Annapolis High School, the late Irving "Swerve" Prichett gave his multi-talented classmate who also raps the stage name "Cell Spitfire." Comacell returned to Annapolis in 2009 after studying art in Atlanta. Today, the father of two who is still known as "Cell Spitfire" primarily focuses on painting what he calls "electric abstract" art and graphic design.
Carmello has already begun following in his father's footsteps. Birdhouses are his favorite items to construct. He was just two when Comacell felt that it was time to purchase his son's first art kit, because Carmello stumbled upon his father's can of pens and markers. Then, he began doodling. Comacell currently assigns projects to Carmello, while he completes custom art pieces for clients. The toddler's art collection includes five complete pieces that range from various types of painted bird houses, and art captured on small canvases, to a treasure chest box, drawings and paintings that were created on paper.
"He started off with markers and crayons," Comacell said. "It's times when he'll wake up talking about Daddy can I draw? or Daddy can I paint?"
This Father's Day will be particularly special since on November 7, 2014, Carmello had major kidney surgery, which was successful.