Ravens Wide Receivers draw high praise from the coaching staff at mini-camp
Turron Davenport | 6/20/2015, 9:30 a.m. | Updated on 6/20/2015, 9:07 a.m.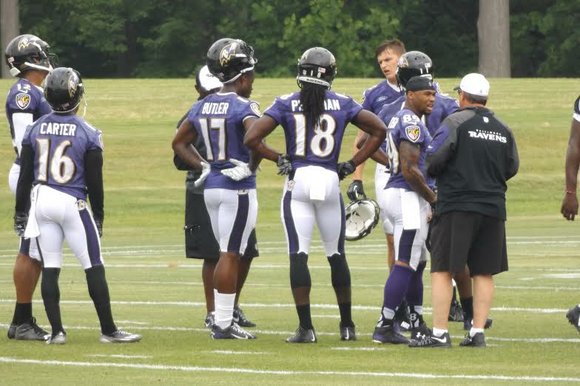 BALTIMORE,Md. — The Baltimore Ravens concluded their 2015 mini-camp on Thursday. A lot of praise was heaped upon the Ravens wide receivers after the performance that they were able to put out over the three day mini-camp. The "old veteran" Steve Smith Sr. continued to show that he has zero signs of slowing down. The first round pick, Breshad Perriman showed that he can be a legit deep threat. Kamar Aiken, Jeremy Butler and Marlon Brown gave signs that they are ready to take hold of a contributing role as well.
The Ravens have a collection of receivers that can do a variety of things for them. Steve Smith Sr. has consistently gotten open and made plays on deep in breaking routes along with double moves on the outside. Having a veteran like Smith Sr. is something that Ravens wide receiver coach Bobby Engram really values.
"His leadership has been invaluable. You've got a guy that's got 15 years in this league, and he doesn't have to be here [during OTAs]. But he came out here and worked hard every day." Engram continued; "He put in the time physically, and he put in the time mentally to really grasp the changes that we were making and further enhance how he understood this offense."

Engram also noted that his veteran receiver isn't afraid to be the leader that the young receivers can turn to. "When he pulls a young guy aside, they're going to listen. And when they see his work ethic, they better listen. His experience and his leadership has been invaluable, not only for the receivers, but for our entire team." Engram said.
Seeing a veteran player like Smith Sr. come out and give it his all even after being in the league for 15 years is a great example for the younger receivers to witness. Offensive coordinator Marc Trestman called Smith Sr. a technician because of how he is able to work defenders and beat bump-and-run coverage. Simply put, Smith Sr. knows how to get open and does so consistently.
The talk of mini-camp has been second year receiver Jeremy Butler. Butler has caught everything that has been thrown his way. He was able to use his 6-2 215 pound frame to get positioning against cornerbacks and come up with the catch. Butler worked the middle of the field when he lined up outside and made some nice catches on corner routes from the slot.
Butler exceled from the slot position while at the University of Tennessee Martin. He feels back at home when he works the slot in Trestman's offense. "That slot is where I am most comfortable. I don't mind going inside or outside but this offense gives me the chance to show what I can do. In the slot I can get physical with smaller guys and quicker with bigger guys as well." Butler explained.
The reliability that Butler has shown has helped him to become a frequent and favorite target of Joe Flacco. Flacco jokingly said that Butler may have had 1,500 in the three day mini-camp. He called Butler incredible and noted how he is a big, strong receiver that catches the ball really well.