Ravens Wide Receivers draw high praise from the coaching staff at mini-camp
Turron Davenport | 6/20/2015, 9:30 a.m. | Updated on 6/20/2015, 9:07 a.m.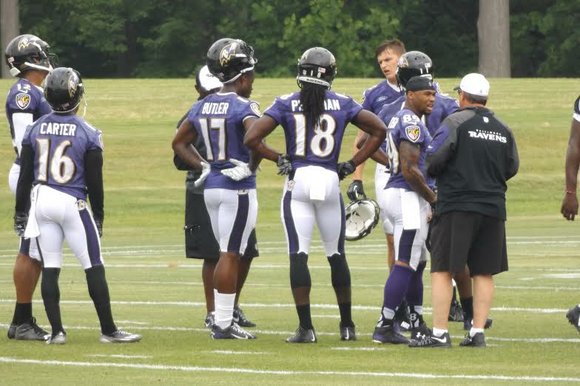 continued — Rookie receiver Breshad Perriman also showed up big time in mini-camp. One of his true qualities is his ability to threaten defenses vertically. The Ravens made a concerted effort to get the ball to Perriman down the field. At times, the defensive backs tried to press him but he showed great improvement in getting able to get a free release. Perriman's speed is too much for most defensive backs if they can't slow him down at the line. He exhibited his ability to go up and make the catch when he had to fight defenders for the ball.
Bobby Engram was very impressed with Perriman. "We're pleased with where he is. I'm excited about what he did. He came in here, he showed the speed we thought he had and he caught the ball consistently." Said Engram.
Marlon Brown made some big time catches in the last half of the 2014 season and he continued to do so in mini-camp. As Engram said, "he is a worker."
Kamar Aiken turned in a couple of solid practices as well. He continues to show that he can beat press coverage, especially in goal line situations when he is able to get inside leverage and make the catch in the end zone on a slant route. Aiken is a tough receiver that will make his living across the middle of the field and by doing the dirty work.
It is no secret that the wide receiver competition is going to be intense. Michael Campanaro will return from injury for training camp. Rookie receivers Darren Waller and DeAndre Carter have also stood out. It will be time to show and prove for the Ravens young receivers.
Steve Smith Sr. certainly knows what he is going to do as the competition gets more intense. "I'm actually going to sit back and watch it and just root for those guys and see them make plays."