Car Review: Cadillac ATS Coupe
Frank S. Washington | 6/22/2015, 10 a.m.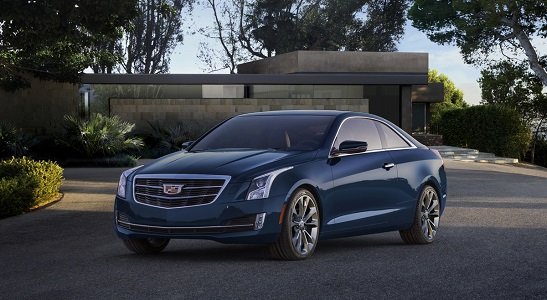 DETROIT (NNPA) — Cadillac has got something. Its two-seat version of the ATS sedan was slick, fun to drive and it had plenty of style. We test drove the 2015 ATS Coupe 3.6L RWD Premium. That translated into a 2+2 coupe with a 3.2-liter V6 that made 321 horsepower and 275 pound-feet of torque at 4,800 rpm.
Mated to a six-speed automatic transmission, this powertrain was quick, responsive to driver input and propelled our test car just about effortlessly. The Cadillac ATS Coupe was pretty light at 3,400 pounds.
We had the rear-wheel-drive version of the ATS Coupe; it also comes with all-wheel-drive. That meant our test car got 18 mpg in the city, 28 mpg on the highway and 22 mpg combined. It was a nice package but on a long highway drive, our ATS' 450-mile range may have been its only shortcoming, if that could be categorized as a shortcoming.
The car had a 50-50 weight distribution, a lightweight five-link rear suspension and a MacPherson-strut front suspension with direct acting stabilizer bar. Powering through a curved expressway entrance, the ATS Coupe tracked well, stayed perpendicular to the pavement and it could have gone even faster than the 45 mph we were going rather than the 25 mph maximum speed that was posted. It was a great ride.
The 2015 Cadillac ATS Coupe handled with rifle shot accuracy. It had a belt driven electric variable steering gear, Brembo brakes and 18-inch machine finished aluminum alloy wheels.
Our ATS Coupe had an adjustable suspension with sport, touring and snow/ice settings. It also had Magnetic Ride Control that was a real time damping system that read the roads and changed damping in a millisecond for better body control.
It shared the same 109.3-inch wheelbase as the ATS sedan but the ATS Coupe's sheet metal was slightly different. It had its own doors, rear fenders and trunk lid. The front fascia and front fenders were altered to accommodate the Coupe's wider track.
The Coupe is the first Cadillac to sport the brand's revised crest badge. The Coupe also shared what is becoming a Cadillac signature, LEDs that form light sabre-like vertical fins that frame the headlights, the grille and the lower front fascia. Our test vehicle also featured illuminating door handles.
As is the case with any vehicle, luxury is conveyed in the interior and the ATS Coupe did not disappoint. The interior from the sedan carried over into the Coupe. In fact, this interior is used in every Cadillac. It featured hand cut and decoratively stitched upholstery material and leather.
Our test vehicle had real wood trim; carbon fiber and aluminum trim are also available. But run your hand on the open pore wood trim of our test vehicle and the grain in the wood could be felt. It was a small characteristic but a giant step towards Cadillac returning to its pinnacle as one of the best luxury marques in the world.
Our coupe was a 2+2 and that translated into full back seats that were pinch for the passenger/s that had to sit in them. The seat backs would fold creating more cargo space.