Mayor Stephanie Rawlings-Blake sworn in as 73rd president of U.S. Conference of Mayors
Rawlings-Blake makes history as the first African-American female president of organization
6/23/2015, 12:30 p.m.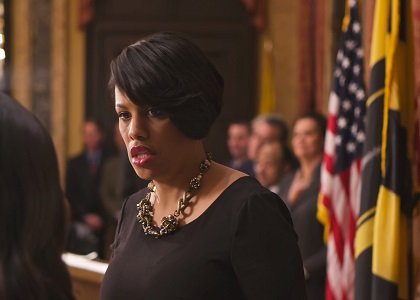 SAN FRANCISCO — The presidential gavel was officially handed to Baltimore Mayor Stephanie Rawlings-Blake today by outgoing U.S. Conference of Mayors (USCM) President Sacramento Mayor Kevin Johnson, appointing her head of the nonpartisan organization during the 83rd Annual Meeting of the USCM Annual Meeting in San Francisco, CA.
There have been five women mayor presidents of the organization – Elizabeth Kautz of Burnsville, MN, Beverly O'Neill of Long Beach, CA, Deedee Corradini of Salt Lake City, UT, Kathryn Whitmire of Houston TX and Helen Boosalis of Lincoln, NE. Rawlings-Blake is the sixth woman president, but the first African American Female to take the post in the eighty-three year history of the organization.
During the four-day gathering of nearly 300 mayors, city leaders met to discuss a broad range of policy issues impacting America's cities and their economic health including community policing, federal investment in America's cities and public-partnerships that drive innovation and efficiency.

As Conference President, Mayor Rawlings-Blake will set the organization's agenda, appoint committee and task force chairs and serve as the national spokesperson for the June 2015-June 2016 term. In her inaugural remarks, Mayor Rawlings-Blake spoke to issues of community policing and its direct connection to the lack opportunity in many communities.
"At a time when women and African American women especially, still face many challenges, the honor of being a female President of this organization and the first African American female President is not lost on me. … We talk a lot about how cities are on the upswing. Articles and books are being written about the new renaissance that's taken place reversing a trend of decades of decline of cities. And it's all great. But as you all saw two months ago there are still very large segments of our cities that feel disenfranchised, disaffected and disgusted. They don't see the growth and positivity that occurs in other parts of town. It's an issue of opportunity as much as it is an issue of policing. It's as much an issue of jobs as it is policing. It's as much an issue of community development as it is policing. It is as much an issue of education as it is community policing. And we don't lose sight of that."
Rawlings-Blake underscored the strength of cities and explained she would ensure urban issues are infused into the 2016 political discussion.
"We will make sure that our priorities are part of the national debate and that commitments are made to our cities and urban America. I want this year to be the year that we make our voices heard and drive the agenda. … Nearly 90 percent of the people and 90 percent of the jobs are in our metro areas. And because of that, Washington needs to step up."
She also reminded the mayors of power of the bipartisan organization.
"But we're not waiting for others to help. Every day in every way, each of us are making progress in our cities. And that progress is propelling our country forward. We need to own our power. …Part of this compact should not be what we are asking others to do for us but we can do for ourselves. We can show the progress and impact we collectively can and do make to create a new normal. That we put our money where our mouths are and so should our State Houses and so should Washington."