Make Summer Memories for Less
6/27/2015, 2:01 p.m. | Updated on 6/27/2015, 2:01 p.m.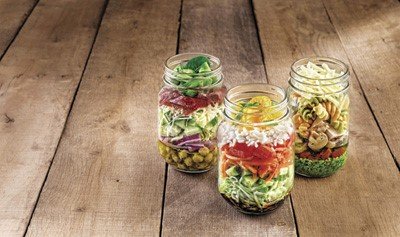 (FAMILY FEATURES) — ) Warmer weather, longer days and smells of sizzling meat on the grill can only mean one thing — summer has officially arrived. As you gear up for the season of backyard barbeques and spontaneous weekend getaways, don't let the cost of summer entertaining take a toll on your wallet. Consider stopping at ALDI, where you can find a variety of fresh produce and high quality cuts of grill-ready meat for up to 50 percent less* than traditional grocers, so you can spend less on your grocery bill and more on making summer memories last all year long.
Sizzle into summer with these tasty tips and techniques that will make cookouts, road trips and impromptu pool parties mouthwatering for less:
• Less Flipping, More Grilling: When grilling for that backyard barbeque, don't make the mistake of constantly lifting the lid on your grill. Every time you lift the lid, you lose smoke, which will make your meat less flavorful!
• Make More Time for Fun: Keep recipes simple so you can join the party and avoid getting stuck in the kitchen. Sometimes all you need for big flavor is to infuse simple spices into your meals. Whip up a quick dry rub with common spices like cumin, chili powder, oregano and peppercorns, and use when grilling meat, fish and even veggies.
• Put a Fresh Twist on Comfort Foods: Add a twist to your barbeque staple foods to make your dish stand out. Stuff your burgers with jalapeño slices and cheddar cheese or top them off with unique flavors like pineapple, avocado or kiwi. It's fun to mix and match different flavor combinations, and ALDI carries everything from organic grass fed beef to fresh pineapple.
• Keep It Cool in the Sun: Have homemade freezer pops in your freezer for impromptu pool parties and neighborhood slip and slides. Mix up this traditional summer treat by combining a classic fruit flavor with an exotic one. Coconut flakes, cilantro or honey will add a unique spin on a classic snack.
• Bring Adventure Home: Travel to a new city without going further than your local ALDI. Just switch up your go-to recipes with some regional flavors like Texas BBQ ribs or Chicago deep dish pizza. Follow the ALDI Summer Starts Here virtual road trip series for regional recipes, tips and tricks on the ALDI Simply Smarter Living Blog.
Looking for more inspiration? These easy-to-make recipes will help you get ready for summer. Visit www.aldi.us for more seasonal ideas.
*Based upon a price comparison of comparable products sold at leading national retail grocery stores.
Hand-Held Snacks
Keep your road trip simple and pack finger food snacks that can easily be taken on the go. Quesadillas are quick to make for grab and go meals, and taste great with a combination of sweet and savory flavors.
• Experiment with fun flavors like ricotta cheese and strawberries; sweet potatoes and black beans; or blueberries and cream cheese.
• Make batches ahead of time and have on-hand for when the kids get hungry. Just heat and serve for a simple snack.