Coppin State's Epps wins triple jump at USATF national championships
Coppin State's Christina Epps, a 2014 graduate, is a national champion.
6/30/2015, 6:15 p.m. | Updated on 6/30/2015, 12:28 p.m.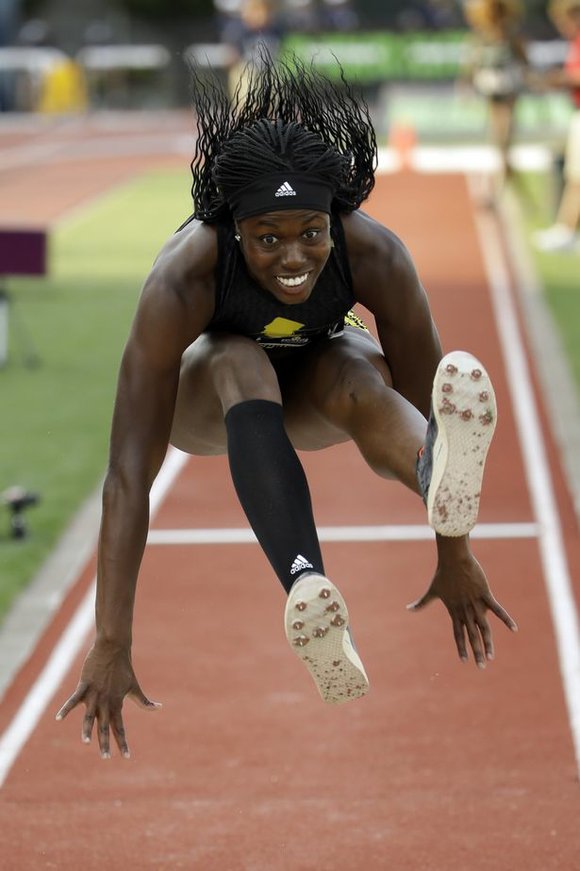 continued — Epps was selected as the Coppin State Female Presidents' Eagle Award Winner, Female Athlete of the Year and MVP in track and field for the 2013-14 season. She served as team captain from 2012-2014 and was the SAAC President from 2013-2014.
While Epps put in hours of countless work in all types of weather conditions, made sacrifices and pushed her body beyond limits she didn't think was possible, she knows that the support of plenty of people behind the scenes made this moment possible.
"First and foremost, I would like to thank my lord and savior Jesus Christ," Epps said. "Without him I would have none of this. My supporting cast has been amazing. My coach (Alecia Shields-Gadson) who pushed me to the next level mainly by being my sport psychologist and getting me to believe in myself like she believed in me has been nothing but a huge blessing. She is a huge part of my success and I wouldn't trade her for anything in the world. She's the coach of the year in my book.
"My mom Beverly Epps-Blackwell is a God-fearing woman who always instilled in me to put God first and your blessings will overflow. Her constant support and prayers and support has made this process worthwhile. My weight room and plyo coaches Nick and Toya pushed me everyday even when I complained about my how my body was hurting and I didn't want to go anymore. They have helped improve my strength and overall explosiveness in ways you wouldn't believe especially after an ACL tear. I am extremely grateful to have them.
"My boyfriend Emeka Chiazor has always been there for me. Days I cried and felt like giving up, he wouldn't baby me. The days I needed someone to come out and help me take out the pit or record me or take me to meets, he has always been there. My supporting cast helped make this dream come true."
Shields-Gadson was happy to witness Epps take her performance to another level.
"We are so proud of the hard work and dedication Christina has put into her craft to become a national champion," Shields-Gadson said. "We give all glory to God for helping her performance tonight."