A conversation with LaShonda Katrice Barnett
Author of 'Jam on the Vine' speaks at Enoch Pratt main branch on March 7
Laura Lee | 3/6/2015, 6 a.m.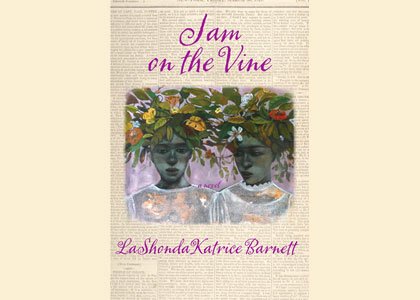 BT: What was your favorite part of the story to write?
LKB: I loved writing about Ivoe going to college. I can't think of a novel that features an African American female character that is allowed to go to college and to pursue her love for learning and a career, not a historical black novel, so I was very proud to be able to tell that story and delighted to follow a black woman living at the end of the 19th century and early 20th century onto a college campus. A lot of our ancestors made their way out of no way which is what Ivoe's parents do. Lemon and her husband Ennis, they find a way to make sure their daughter goes off to school to become somebody and I was very excited to be able to write about that.
BT: You talked about balance. It was striking how you realistically described the dangers of being African American in the early 20th century, but you also offer some hope.
LKB: it was very important to me to write about a functional black family and it was also the only way that I could get through the novel. I thought to myself, historically speaking, Jim Crow was always at the backs of black people's minds. You could not set foot outside your house without worrying about whether or not you were going to make it. That's just the truth of the matter. Every single bit of research that I put my fingers on underscored this point. It was a very dangerous time. So I thought I have to bring some light into this story. Because the fact of the matter is we're still here. It wasn't always horrific. We are a people capable of passion and love and ingenuity and that to me explains why we're still here. If you've got Jim Crow at your back when you leave the house, then at least inside the house let's create an atmosphere of love.
BT: Your character Berdis, ends up working at the Belvedere hotel in Baltimore. What is your connection to the city?
LKB: (Laughing) I don't have a connection to Baltimore! Last week I was in Mt. Vernon at a lovely B&B called Empire House and when I got out of the cab to go to the bed and breakfast right next door was the Belvedere where Berdis works! I just chuckled. As soon as I dropped my bag off I went in to the Belvedere I walked all around the hotel and had a meal at a restaurant called the Owl. I was so tickled that I was there. I wanted to show different parts of America and that's probably because of my scholarly interest in American studies, my Ph. D in American studies. That's why I have Ivoe going to Omaha and Ennis is in Kansas and I wanted Berdis to come east for the Peabody Conservatory. That was my draw to Baltimore and I like Baltimore. It's an interesting city, especially artistically speaking. There's a very rich writer's scene because of Johns Hopkins Creative writing program so it's a city full of poets and fiction writers. There's a lot happening here. It's full of character.