Don't overlook contributions of Clarence M. Mitchell, Jr.
William Barber and Gary L. Bledsoe | 3/18/2015, 6:36 a.m.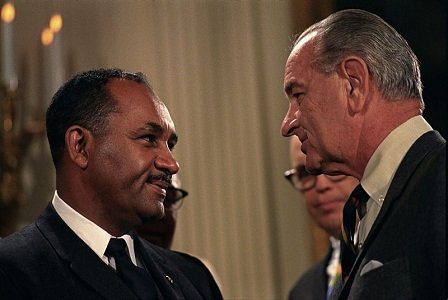 continued — As we celebrate Bloody Sunday and the march from Selma to Montgomery and other vital and important events from 1965, let us remember the heroes and martyrs— Dr. King, Rep. John Lewis (D-Ga.), Hosea Williams of SCLC, Amelia Boynton and Jimmie Lee Jackson. In addition to those great African-Americans we should celebrate the courageous actions of white Americans such as Rev. James Reeb and Viola Liuzzo who gave their lives so that we could have a better country. Let us remember Clarence Mitchell too!
Remembering Clarence Mitchell reminds us of how important an integrated strategy was before and is now. We must go to the streets as LBJ insisted, but the work in the halls of Congress and in the home states or districts of Congresspersons plays an essential and vital role as well. The strategy needed and included the NAACP and Mitchell and Roy Wilkins, SNCC with Lewis, Julian Bond and others and of course the SCLC with King, Hosea Williams, Andrew Young and others.
As we try to fix this law, let us restore it with substance and vitality in honor of all those great people, named and unnamed, who gave so much so that we might have the right to vote.
William Barber is state president of the North Carolina NAACP and Gary L. Bledsoe is state president of the Texas NAACP.