Colorectal cancer information that you should know
Andrea Blackstone | 3/20/2015, midnight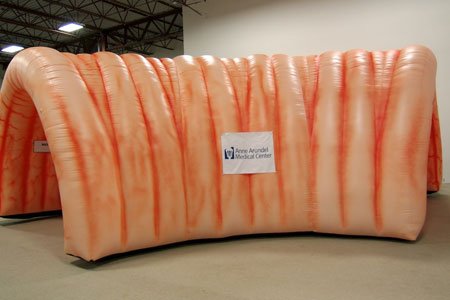 March is National Colorectal Cancer Awareness Month. Dr. Glen Gibson, a surgical oncologist who works at the DeCesaris Cancer Institute at Anne Arundel Medical Center (AAMC), says being informed about colorectal cancer and getting screened for it can be extremely beneficial.
"As far as nationally, colorectal cancer is the third most common cancer in men and women. It is also the third most common cause of cancer death in men and women nationwide. It is about 150,000 new cases of colorectal cancer every year in America," notes Gibson.
According to Gibson, diagnosed cases of the disease in the United States are about equal between men and women, although the number may be slightly higher in the male population. On the other hand, African Americans are at a higher risk.
"It seems like African Americans are the highest ethnic group with the risk of getting or dying from colon cancer. They are more than 10 percent more likely than Caucasians to get colorectal cancer. No one really knows why that is."
Gibson explained that home screening kits that check for certain elevated chemicals found in many people with colon cancer can show up in their stool. Kits should not be used by themselves. They do not prove that a person does not have colon cancer. Getting a colonoscopy is an important step in screening for colorectal cancer.
"It [colorectal cancer] is very preventable. The key to preventing it is getting a colonoscopy when you turn 50," Gibson said. "It is very important in colorectal cancer to get appropriate screening. The reason for that is a colonoscopy is very important, because with colon cancer, it starts out as a polyp. It can remain a polyp for five to 10 years before it becomes a cancer. So simply by removing the polyp, you have prevented it from turning into cancer. Furthermore, if you remove a small cancer, then the treatment for that is to remove part of the intestine with surgery. But if it is a very early cancer, then you don't need any more treatment. What I mean by that is you don't need any chemotherapy after your surgery."
Gibson reminded that polyps are found through colonoscopy testing.
"In cases where non-cancerous polyps are removed, patients would likely be instructed to get another colonoscopy in a few years. If the colonoscopy is completely clean, you can wait five to 10 years to follow up with another one," Gibson said.
Most cancers are reportedly hereditary in some way, although most people who are diagnosed with colon cancer do not have any risk factors. Individuals whose first-degree relatives were diagnosed with the disease are at a slightly higher risk.
"It's one of those things where it seems to be related and run in families, but we're not sure how. The problem is that colon cancer is so common. One in 17 people gets colorectal cancer. It's hard to find a pattern with family members or with any kind of syndrome in most people," Gibson said.