Hollywood comes to Annapolis for annual film festival
Stacy M. Brown | 3/20/2015, 3 p.m.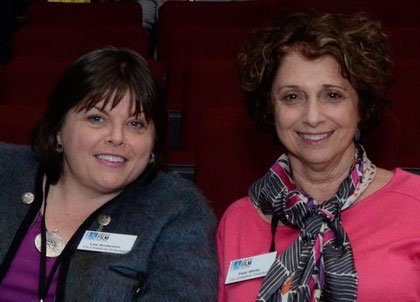 ANNAPOLIS — Hollywood is making an appearance on the Chesapeake. The Annapolis Film Festival seeks to make the third annual installment its best with a lineup that features shorts and documentary films as well as an array of independent selections that include the narrative features, "Adventures in Comedy," and "Appropriate Behavior," as well as the documentaries, "Above and Beyond," and "Burden of Peace."
The festival, which kicks off on March 26 in downtown Annapolis, will also feature the retrospective, "The President's Analyst."
"Guests at this year's Annapolis Film Festival can expect to see amazing films, 70 plus, on a wide range of subjects with something to suit everyone," said festival Director Lee Anderson. "Our venues are within walking distance in downtown Annapolis and we have three City Circulators at our disposal to carry guests around."
Opening night at St. John's College Key Auditorium kicks off the festival and Loews Annapolis Hotel will act as Festival Central, while O'Callaghan's Hotel will serve as the main venue for panels and workshops.
The festival screening venues include Maryland Hall for the Creative Arts; St. John's College – Key Auditorium; Asbury United Methodist Church on West Street; St. Anne's Parish Hall; and Annapolis Elementary School, according to the festival's website.
Special showcases will include films by and about the African-American, Jewish and LGBT experience, and the Student Showcase, which will feature 12 shorts. Other film topics include sailing, comedies, veterans, mental health, global politics, world cinema and conversations with surprise industry guests.
"[You can] add in 60 filmmakers and VIPs; a slate of panels from, 'The Art of the Pitch to Movie Critics: What Were They Thinking?' said Patti White, also a festival director.
"African-American and Environmental Showcases; films about the Jewish and LGBT experiences; "The Rewired" starring Hugh Grant as our opening night film; and some great parties and you have the 3rd annual Annapolis Film Festival, a touch of Hollywood on the Chesapeake," White said of the festival.
One of the featured documentaries, "Back on Board," is a glimpse into the life of four-time Olympic champion Greg Louganis. It chronicles Louganis' rise from a difficult upbringing to his leading role as an openly gay athlete living with HIV.
Also, Rory Culkin, the brother of "Home Alone" star Macaulay Culkin and the star of "Gabriel" will attend the festival. "Gabriel" counts as a powerful movie about a troubled young man who is not aware of how pervasive and far reaching his own mental illness is.
The screening will take place at 5 p.m. on Saturday, March 28th at St. John's College and will be followed by a question and answer session with Culkin and the writer and director, Lou Howe.
VIP pass holders to the festival will be able to listen in on behind-the-scenes talks about the business of directing, acting and producing, which will take place at Crush Winehouse starting at 9 a.m. on Friday, Saturday and Sunday.
The event also caters to those who may aspire to become a screenwriter or even a director with volunteers being assigned to a number of key positions that can even lead to their big break.
Tickets for the festival are $12 for adults and $8 for seniors and students. A four-day festival pass is $105, while four-day student passes are $40. All four-day passes include the opening night film, the after party and unlimited films and panel discussions. One-day festival passes also are available for $40.
Festival passes can be purchased at www.annapolisfilmfestival.com. For tickets and the full schedule of films and events, visit www.annapolisfilmfestival.com or the festival's Facebook page at www.facebook.com/annapolisfilmfestival.