Happy eating: Ingredient to a long life, in your cereal bowl
Early studies have shown eating a diet rich in cereal fiber can help reduce risk for diabetes, cancer, inflammation and obesity
Jen Christensen | 3/30/2015, 11:07 a.m.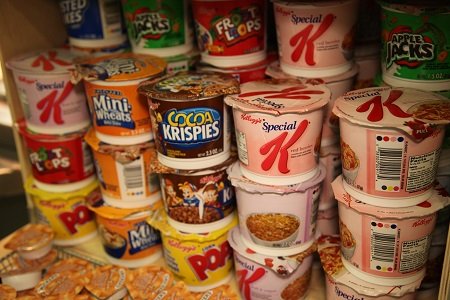 (CNN) — There's good news for those of you who wake up to a bowl of cereal every morning, especially if your go-to choice is high in fiber. Hidden in that favorite box may be a prize better than a plastic toy. It just might hold the key to a longer life, according to a new study.
No, this study wasn't done by Snap, Crackle or Pop. Tony the Tiger was not involved in the making of this research.
Some scientists at the Harvard School of Public Health have been researching the impact of cereal fiber on diet for years. They found that people who reported in surveys a diet rich in cereal fiber lived longer than those who chose less well in the morning. They had a 19% reduced risk of death, compared to those who ate the least amount of cereal fiber.
Crunching the numbers even further, the authors found that high fiber cereal eaters had a 34% lower risk of death from diabetes and a 15% reduced risk of death from cancer. People who ate a lot of whole grains and dietary fiber had a 17% lower risk of all-cause mortality.
Cereal fiber, they conclude, is one "potentially protective component" of a really healthy, premature death-preventing diet.
The study was published in the latest issue of BMC Medicine.
It drew from the NIH-AARP Diet and Health Study and included more than 566,000 AARP members ageds 50 to 71 from six states and two large cities. It excluded individuals who reported extreme-energy intake, which is common, since scientists believe these survey takers are not totally accurate in what they report. That left them with over 367,000 people.
This new study builds on others that have shown that cereal fiber and whole grains have a positive impact on your life if you want to avoid cancers, inflammation and obesity as well.
Does that mean that eating a daily bowl of your favorite purple horseshoe marshmallow-sprinkled cereal is doing your body right?
Well, don't court the leprechaun quite yet, dietitians say. Those cereals have sugar among their top ingredients, so dietitians suggest you avoid those.
If you want to get the daily serving that these researchers say showed a difference in risk reduction, you need to eat at least 10.22 grams of cereal fiber per day based on a 1,000 kcal daily diet.
If you want to get your fill with just one serving of cereal, aim for those that have "fiber" in the title or list at least 10 grams of fiber per serving on the label. Fiber One lists 14g per serving. Kashi GoLean lists 10g. Mini-Wheats lists 8g.
If you can't stand the taste of high-fiber cereals, don't worry. Other popular cereals such as Cheerios have about 3g of fiber per serving, as do Honey Bunches of Oats. Oatmeal is a good source of fiber too.
Whole grains and regular dietary fiber also may help reduce your mortality risks, the study found, and those can be found in a large number of products.